2021 Student Elections
Vote Today:
Ballots Available April 12th through 16th in your Student Portal
Click Here for the complete Election Timeline PDF [Updated 2/16/2021]
---
2021 Candidate List [All Candidates]
2021 Candidate Brochure [All Candidate Photos and Statements]
---
Campaigning begins on Monday, March 15th.
Virtual Election Assemblies will be recorded at the following dates:
Assembly #1: Tuesday, April 6th, at 12 PM
Assembly #2: Wednesday, April 7th, at 12 PM 
Election Week:
April 12th through 16th, 2021
Candidate Expenditure Forms are due on Friday, April 23rd, at 5 PM.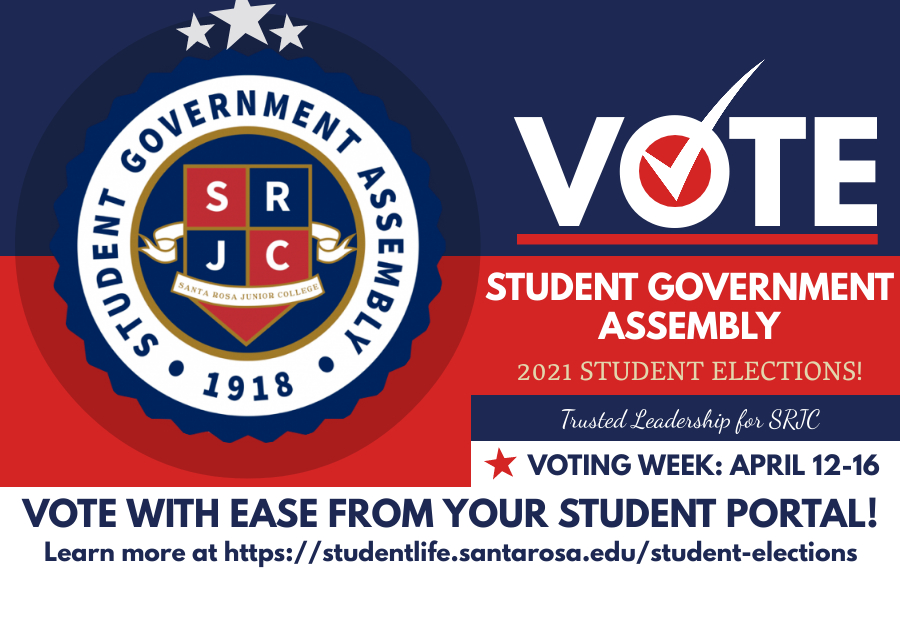 ---
Interested in running for office?
Fill out this form to get more information
---
Spring 2020 Student Elections Results
---
Need assistance voting or getting information about candidates? Contact Election Coordinator Zack Miranda at 707-524-1528 or zmiranda@santarosa.edu.