You are invited to participate in a giant Earth Day Street Mural on Friday, April 22nd from 9am - 12pm at Santa Rosa Junior College. The mural will run along Elliot Ave, between Salem Ave and Albany Drive. The purpose of this mural is envision a Livable Future for All.
Student groups, academic departments, student services, and community organizations will be contributing their ideas at SRJC's Earth Day Street Mural Event on April 22nd. Full list of participating organizations is below, but everyone is invited to paint the streets! Please join us and spread the word.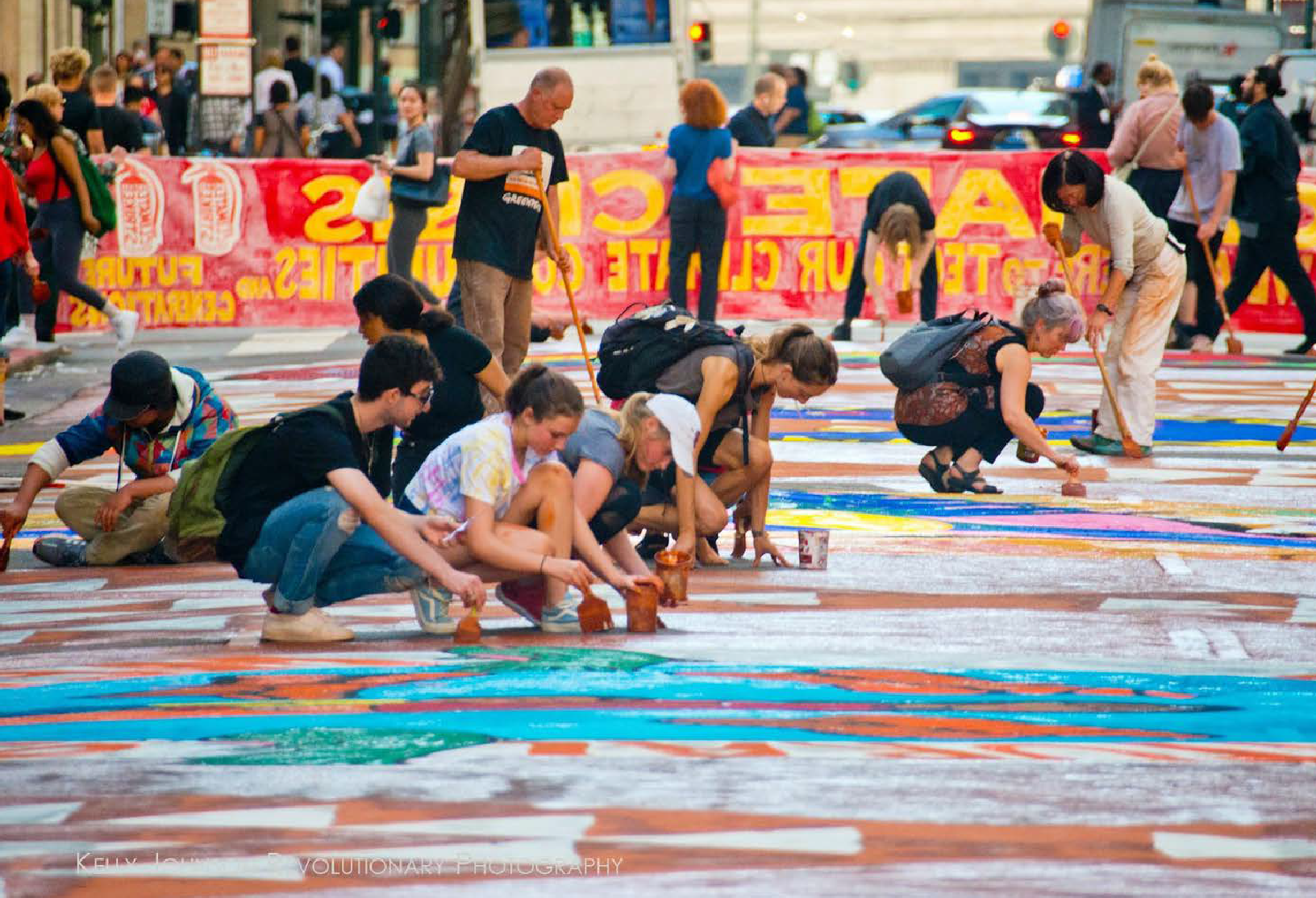 This is a temporary installation, created with non-toxic materials (see Street Mural Manual for details). We plan to remove the mural prior to the first rain on approximately October 1st.
ALL ARE WELCOME!
If you'd like to participate as an individual, all hands are welcome! Just show up on the morning of the event in paint friendly clothes! Paint, brushes, and guidance will be provided on site!
Please spread the word by sharing the flyer or Facebook event.
DAY OF INFORMATION
What to Bring? Please bring a water bottle, hat or sunscreen, and paint friendly clothing.
What's the Schedule? Set up begins at 8am. Participants start painting at 9am. We will have an open mic and music throughout the day. We will also have a #defundclimatechaos art installation and highlight student research from Thursday's Climate Action Night event. Free coffee in the morning, pizza at noon courtesy of the Student Government Assembly and Student Life.
Where to Park? Please park in the SRJC parking lot behind Joes or near Bech Lot off Armory.
WHAT'S THIS ABOUT?
To build a future free from the intersecting threats of climate disruption, ecosystem degradation, racism, sexism, ableism, violence, and exploitation in all its forms, we need to care -- for our common home and for each other -- and we need to act. Please join us this Earth Day to paint a giant street mural that celebrates all the ways we are working together to build a livable future for all. 
Student Engagement
The mural provides an  in-person opportunity for student re-engagement and social connectedness after a difficult two years of remote learning.
Climate Justice
The Intergovernmental Panel on Climate Change recently released a report detailing how half the world's population lives in areas already affected by climate change. From devastating impacts on food supply, increased insects and vector issues, and biodiversity loss to decreased wages, ability to respond to severe storm events, and lack of access to adequate health care - climate change hits those with less status and power areas the worst - both globally and locally.  
The Earth Day Street Mural event also builds on the history of Earth Day and environmental activism on college campuses and connects SRJC to the broader community.
Community Building
In effort to build community and  foster healing, we will acknowledge those affected by the recent wildfires and honor our collective resilience through the use of paint made from ashes and reclaimed natural materials from California wildfires.
WHAT'S INVOLVED FOR CIRCLE MURAL PARTICIPANTS?
Design: We asked participating groups to their perspective to the impacts of climate fires and climate chaos on our communities. We will ask each group to share a few sentences about their mural design and group to share with the community. Check out this video from one of the artists' latest street murals in San Francisco. Or this article which has a picture of each group's circle and description.
Online Orientation: David Solnit and Gemma Searle will prepare us to envision a Livable Future for All together on Sunday, April 3rd, @1pm - 2:30pm.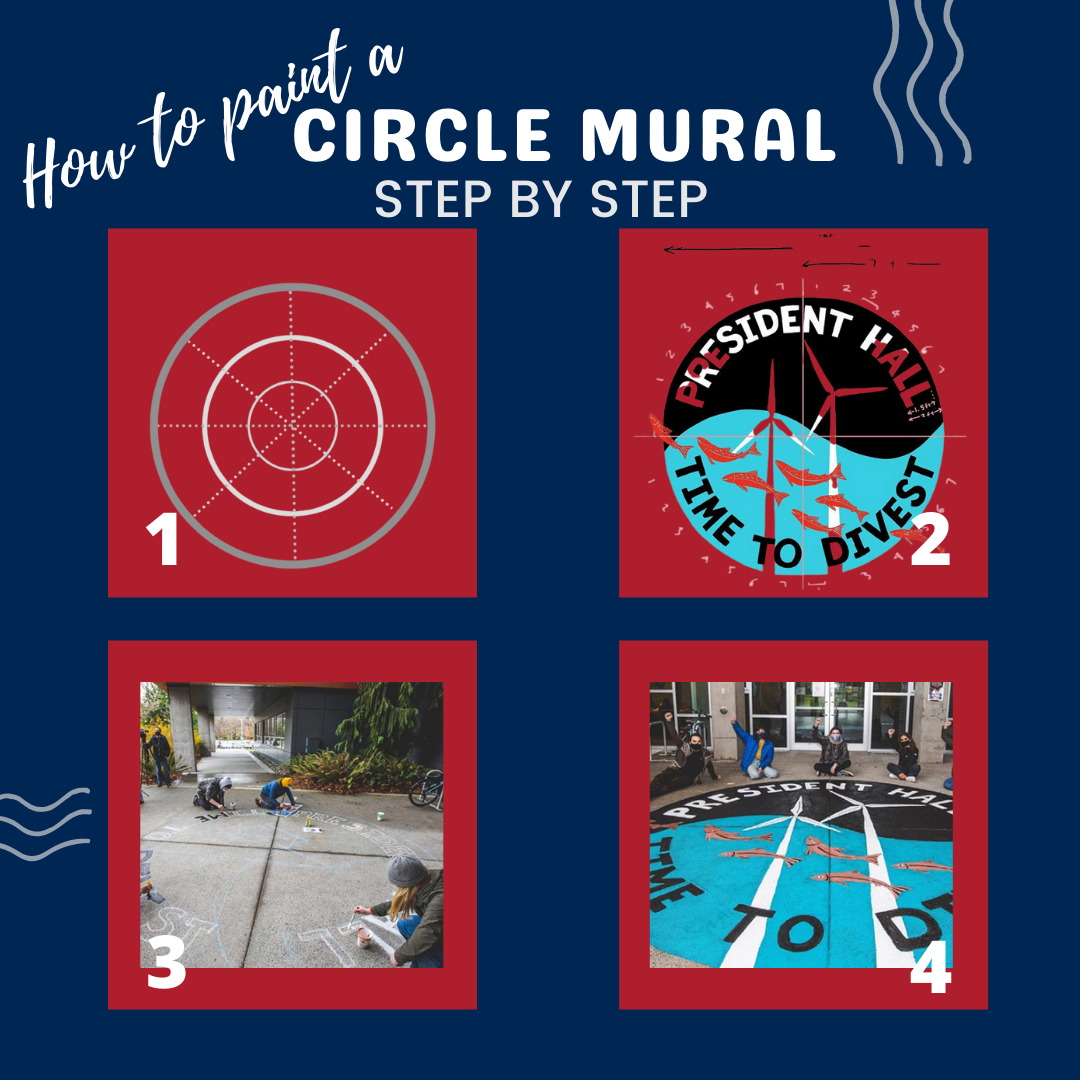 On-site Training: We set up 2 hour hands on street mural training the weekend before. We ask all circle mural groups to send at least one member to the training on Sunday April 17, 12pm - 2pm, Santa Rosa Junior College, 1501 Mendocino Ave, Emeritus Parking Lot.
Circle mural groups can register for the on-site training here. Please plan to show up 15 minutes early to find the location and get situated. From 2pm to 3pm groups are welcome to work on layout with our art consultants and staff. 
Paint the Mural: You will need at least 4 people to show up by 9am (we will have supplies ready at 8:30)--we ask all the groups to finish by noon. Please stay to help clean up if possible.
WHAT'S PROVIDED?
Supplies: We will provide everything you need: chalk, chalk stick, string, brushes, rags, containers, water, etc. We will provide basic colors of tempera paint (white, yellow, orange, red, blue, green, dark brown, black), redish clay paint, and grey and black paint made from wildfire ash and charcoal, which we hope you will use in your design. If you can bring some used yogurt type containers and some of your own rags (worn out towels work great) please do, but not necessary. We will also have folks to support your team if needed.   
Documentation: We will take and share a drone photo and other photos and video of your mural, though we encourage you to document, take a group photo and share out yourself.
We encourage you to get creative and please encourage folx from your communities to come and help paint the streets.
Here is an example of what Elliot Mural might look like. We are using "For All" in different languages and the Native basket design to tie the mural together. The artist has created a Street Mural Manual with details on materials and more.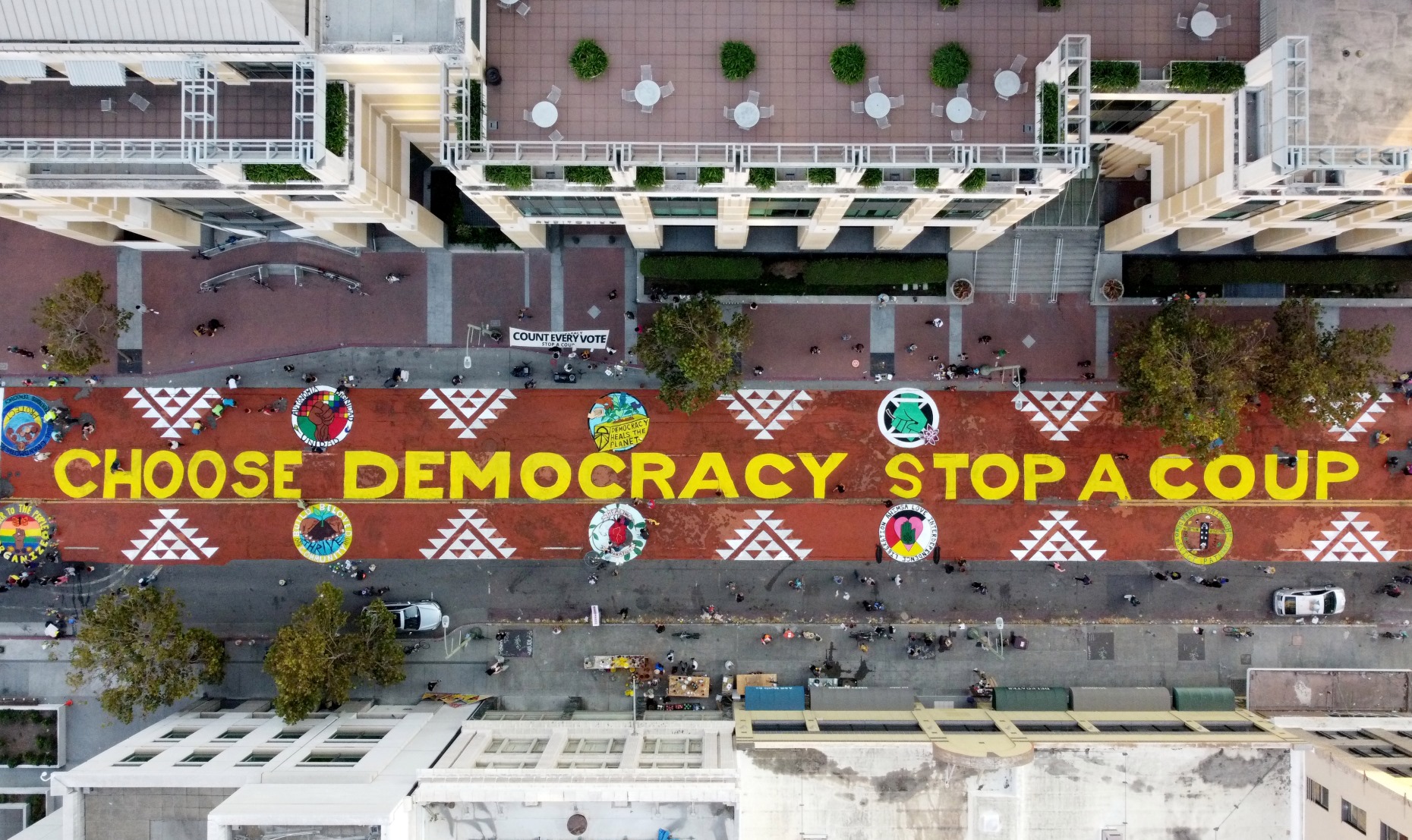 TIMELINE
Week of March 7 -- Approvals & Promotions

Spread the word - flyer, website, email

Google Form Opens

Week of March 14 -- Groups Working on Design

Work on design, recruit members, and complete the submission form.

Spread the word about the event!

Week of March 21 -- SRJC Spring Break

Google Form Closes - Thursday, 3/24 @ 5pm

Week of March 28 --Let's Go!

Selected participants notified

Attend online orientation 

Sunday, 4/3 @1pm - 2:30pm

Week of April 4 

Continue working on design, consult with artists on design if needed.

Week of April 11

In - Person Training in Emeritus Parking Lot - Sunday, 4/17 12pm - 2pm

Week of April 18

Big Event - 4/22 @7am - 2pm
PARTICIPATING GROUPS
Black Student Union, Umoja, Sawubona
Rising Scholars Club
SRJC Cheer Team
Sustainability Club & Committee
Biology, Chemistry, & Physics Club
Circle K International Club
Housing and Homeless Awareness Club
Philosophy Club & Department
SRJC Student Group
HS Student Group
Kindness Crew - student group
All Faculty Association
International Student Program
Student Health PEERS
High School Equivalency Diploma - Spanish/English
Saleh's Art 1.2
Saleh's Art 1.1
Multicultural Museum
EOPS, CalWORKs & Foster Youth Programs
Sonoma County Climate Mobilization & So Co Sunrise
Art in Public Places Committee
Green Mary Goodwerks
Climate Protectors
New Horizon School
Healdsburg Community for Sustainable Solutions
Youth and Staff from VOICES Youth Center
Student Government Assembly
North Bay Jobs with Justice
Chop's Teen Club & Roseland Rises
Roseland University Prep School
Plus, featured art by: Raizes Collective & Monarch Project