SRJC BearFacts eNewsletter - 6.12.22 Publication
---
Effective January 2022: SRJC will require proof of full vaccination. Exemptions to the requirement are only those based on law for approved medical and religious reasons. 
June 13 – Summer 2022 classes begin
July 4 – Independence Day Holiday (No classes. SRJC closed.)
August 15 – Fall 2022 classes begin 
---
Queer Corner: New Time, Same Day!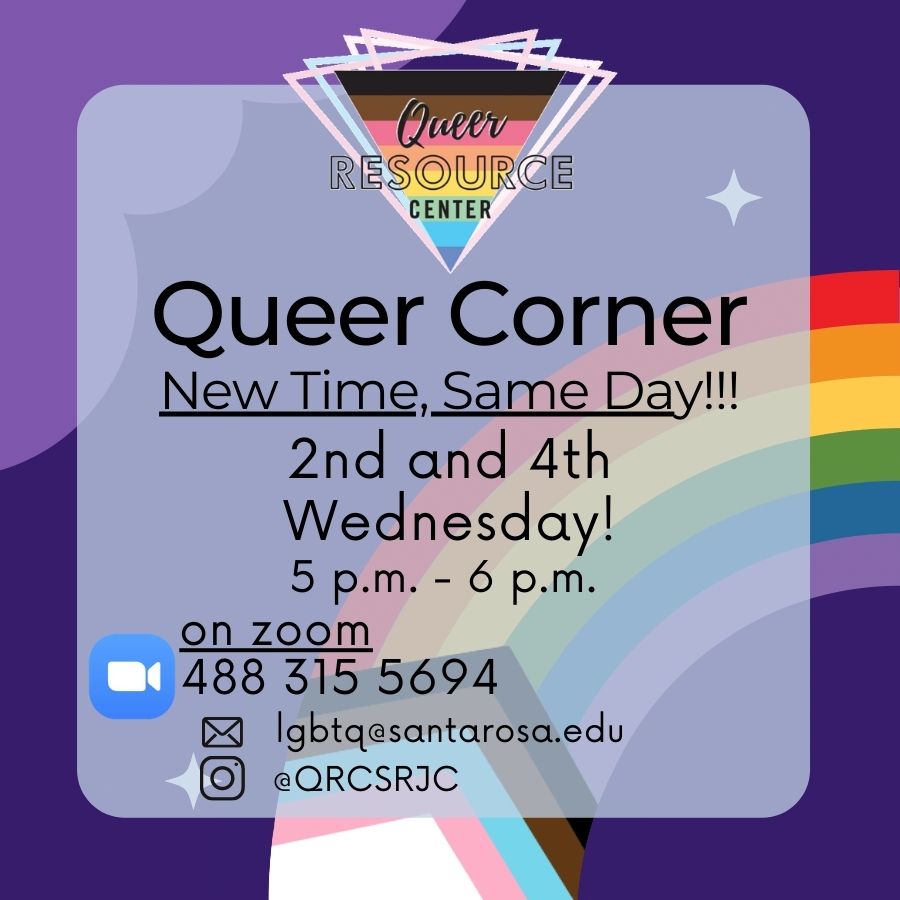 ---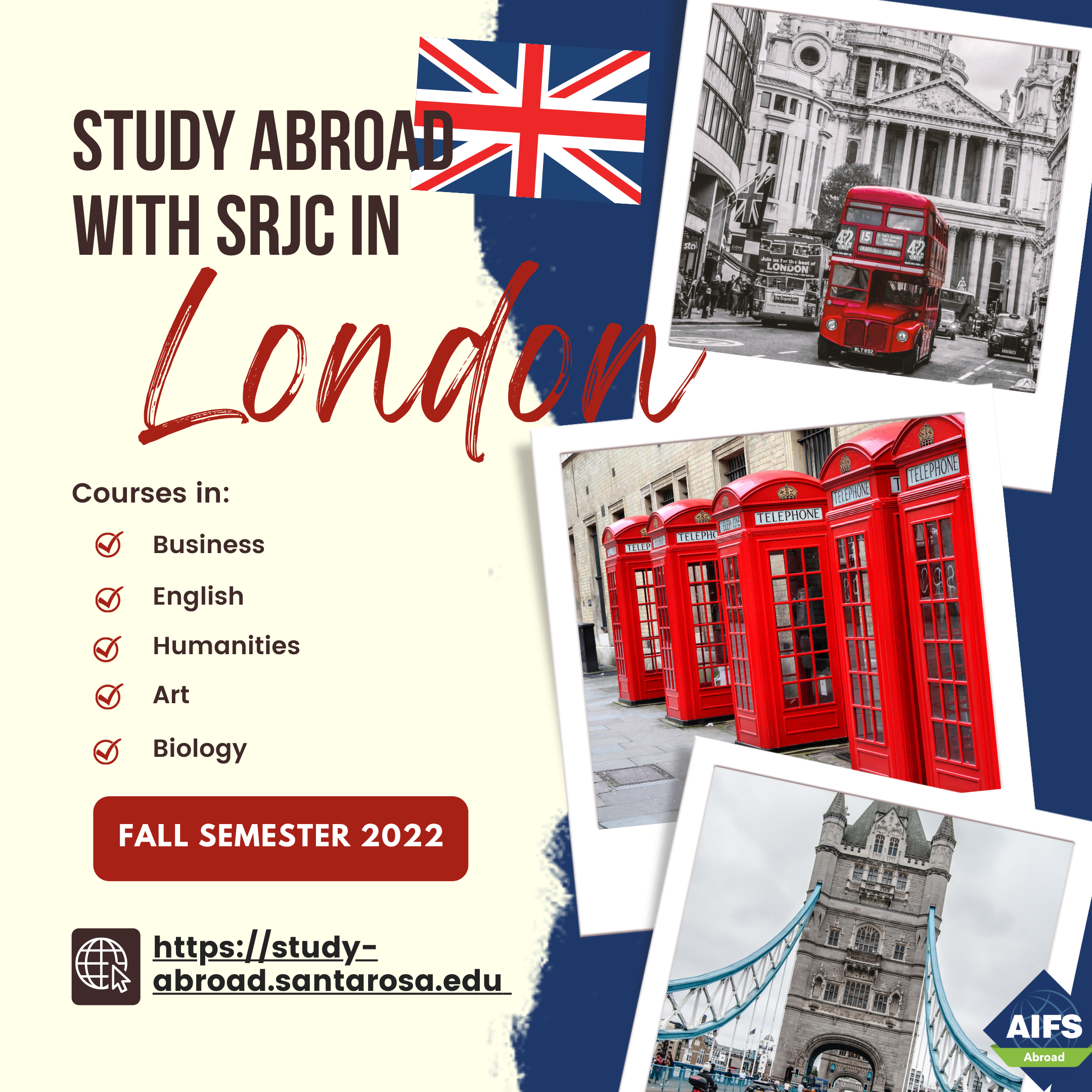 ---
Teaching Fellows Program: Applications Due June 30
Are you interested in a career as a teacher, school librarian, school counselor, or other educator role? Consider applying to next year's Teaching Fellows Program! You will need to ask a contract faculty member to be your Mentor and apply with you. This is a competitive scholarship opportunity. Teaching Fellows will receive a stipend of $4050, disbursed in six equal payments throughout the academic year. For more information, including a link to the application, please see the Teaching Fellows Program webpage. 
Application deadline has been extended to: Thursday, June 30. 
---
Free LinkedIn Premium for Students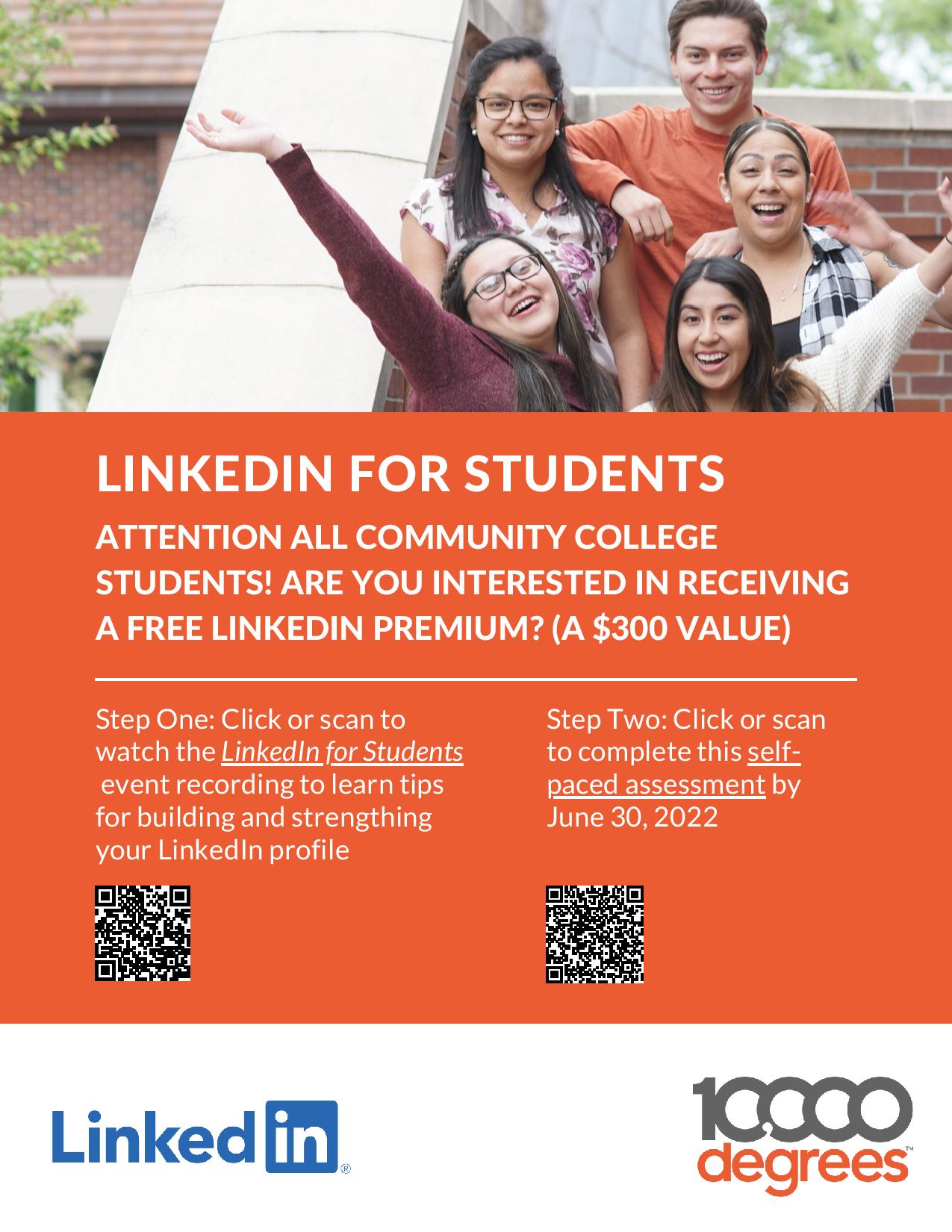 LinkedIn For Students Event Recording
---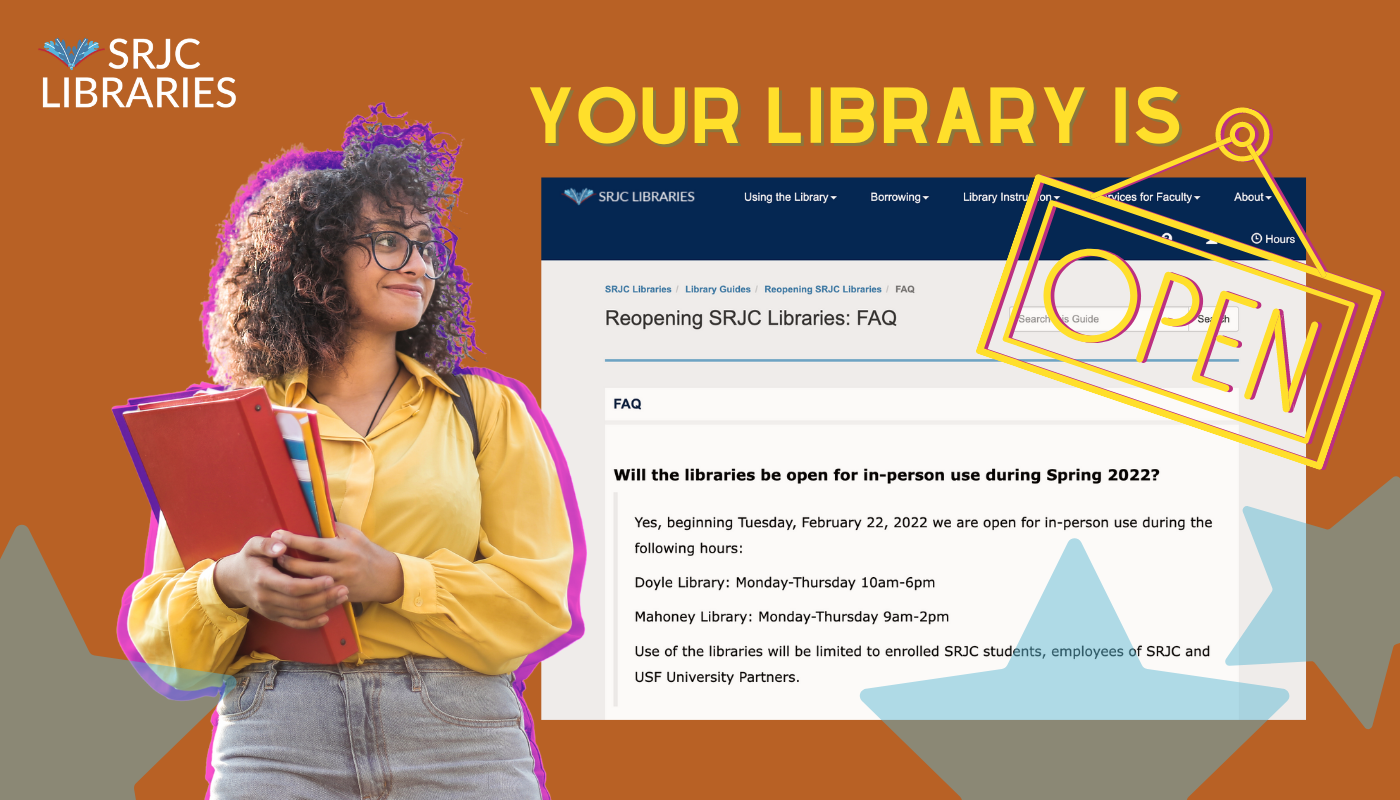 ---
 NoodeTools Workshops: Register Today!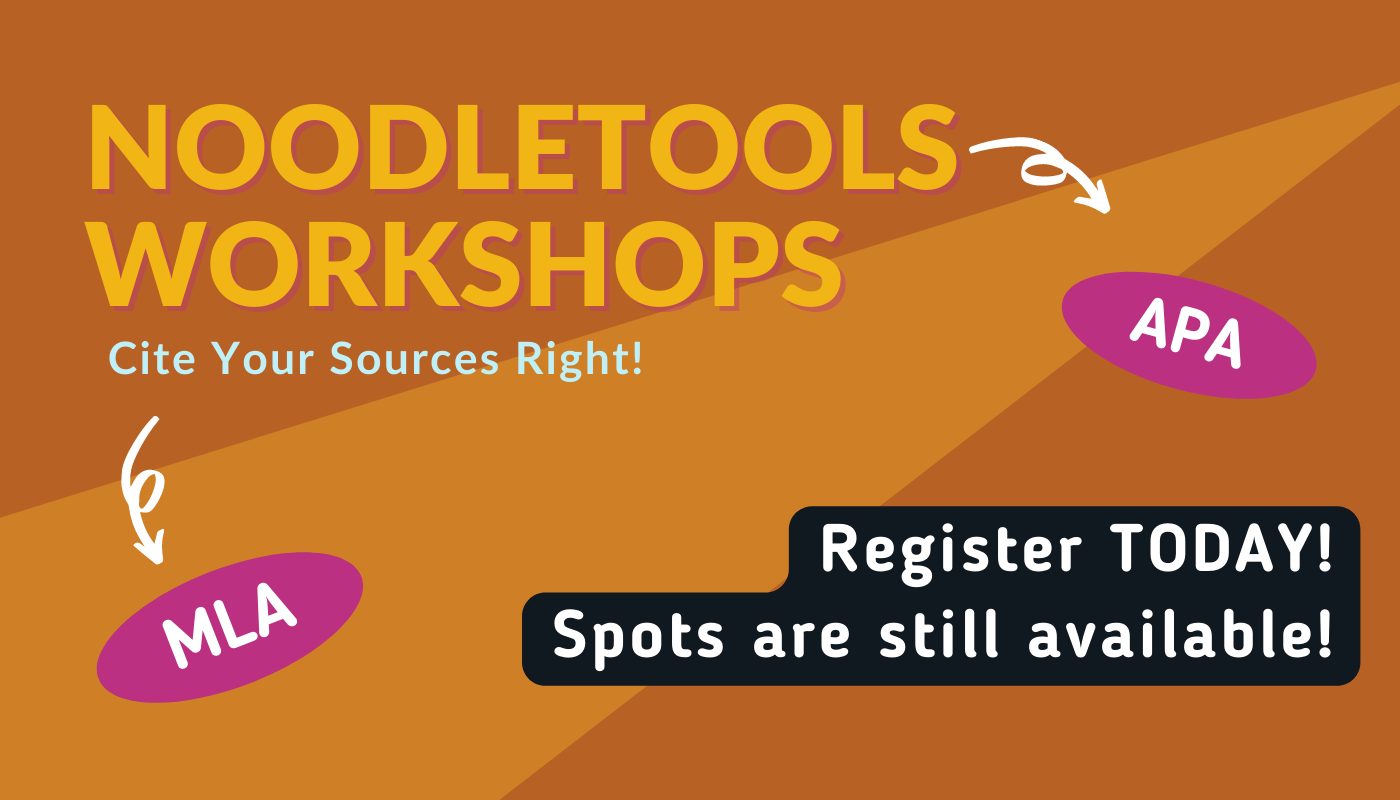 ---
Earn While You Learn! Conservation Corps North Bay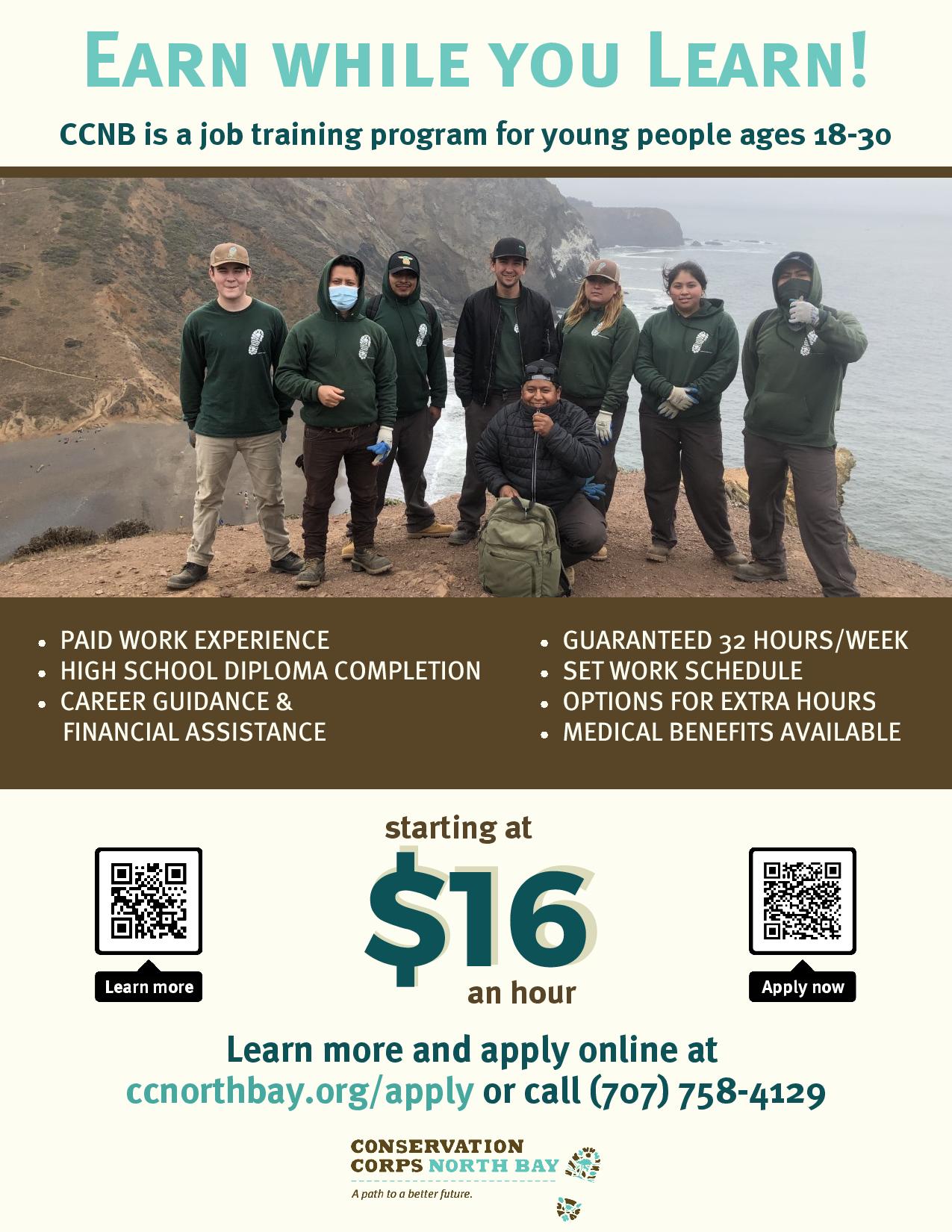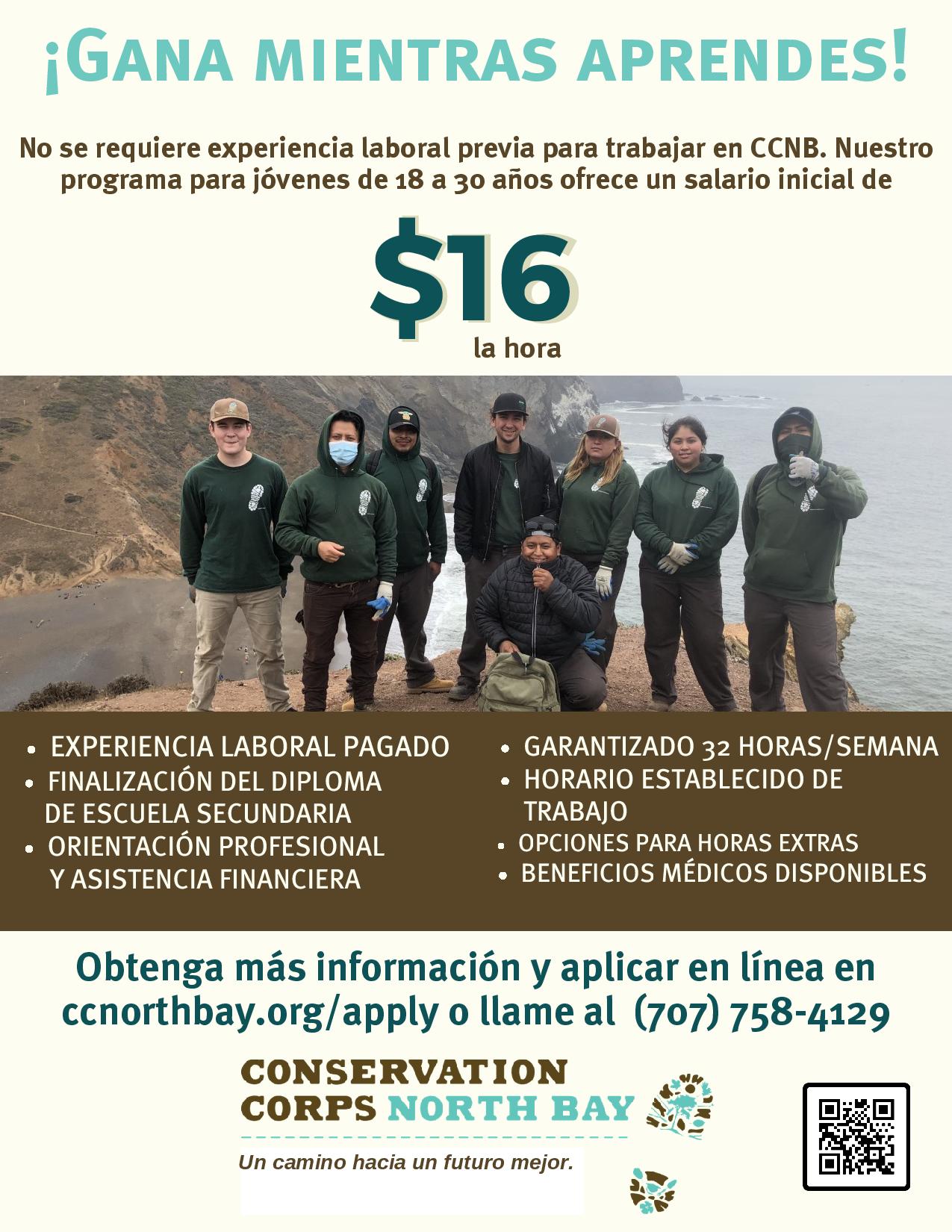 ---
It Isn't Easy to Talk About Sexual Assault: Let's Change That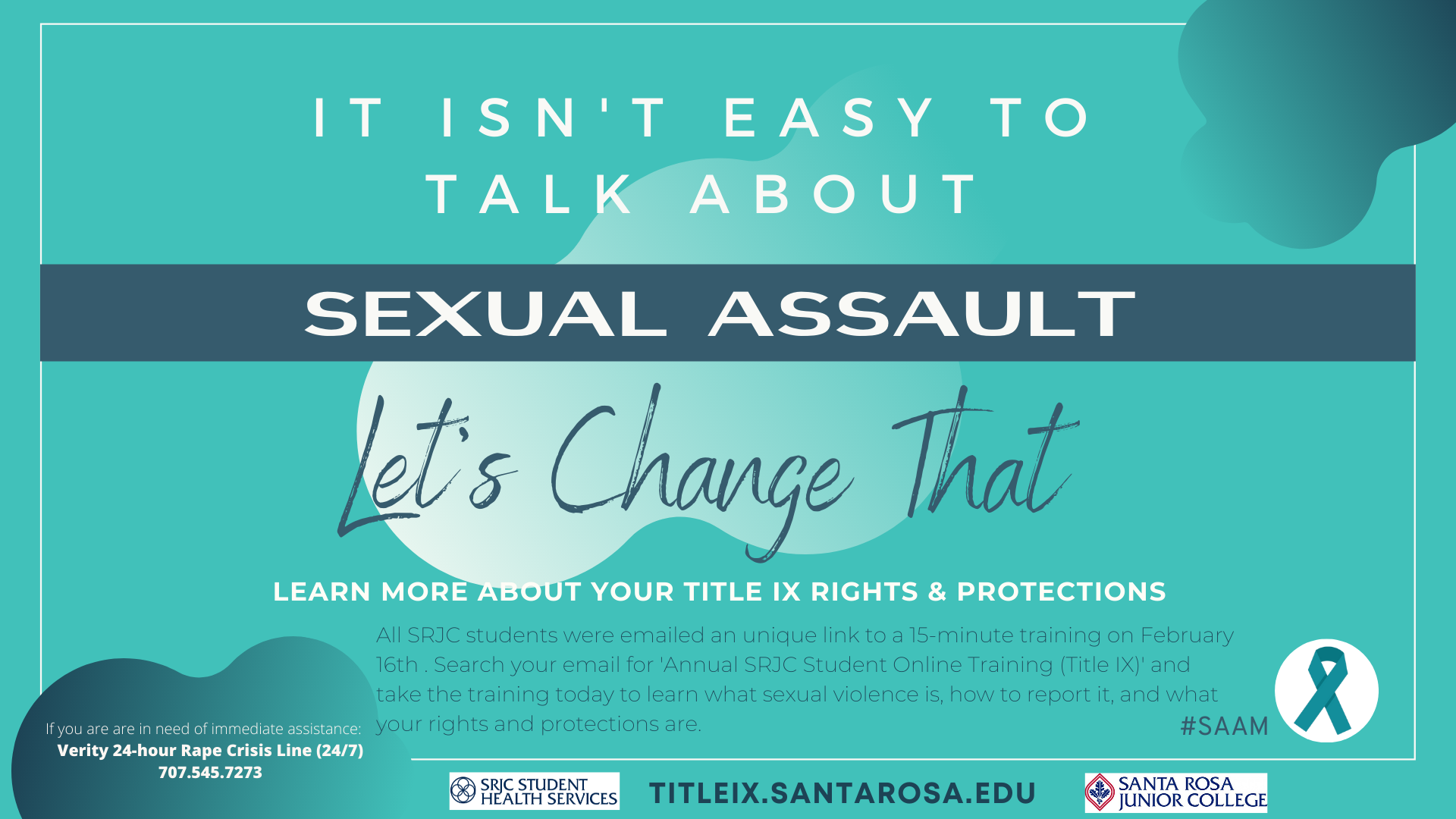 ---
Food Pantry Information / Informacion Sobre La Despensa De Alimentos
FOOD PANTRY INFORMATION/ INFORMACION SOBRE LA DESPENSA DE ALIMENTOS
Registration Information and Safety Protocols – this process has changed a little to make sign-up and distribution easier:
We ask that you pre-register via Eventbrite to get your "ticket" for a specific time slot each week. Select a morning or afternoon time slot  and to save time, you can sign up for multiple weeks in advance; however, please sign up for only one ticket per week as duplicate tickets will take a spot away from another student.
This process helps us to know how many students we will be serving and to have enough groceries on hand. 
You are also welcome to bring thermal bags for cold or frozen items and/or reusable bags.
How to sign up:
Create a profile with Redwood Empire Food Bank – If you already have one, then you are all set.

Contact the Food Bank (707-523-7903) if you need assistance in setting up a profile.
Select an arrival time – you will need your Student ID number. The site will be active until 9 AM on Wednesday mornings.
To maintain safety measures, please plan to arrive on time for your selected time slot, but no more than 10 minutes early.
Please remember that the pantry needs to be closed from 12-1 so the staff has the opportunity for lunch and to recharge.
---
When you arrive:
Check in at the CalFresh table with your Student ID number
Check in with Redwood Empire Food Bank (bring your bracelet)
Get food!
---
 Sneak Peak:  The May 11th bag will have mustard greens, cilantro and strawberries from Shone Farm and from REFB we have Cauliflower, Mushrooms, and Yams as well as many shelf stable items.
---
Questions? Email lhunnemeder-bergfelt@santarosa.edu (or for Spanish mquiroz2@santarosa.edu) for additional information.
---
Estimado estudiante de SRJC,
Asegúrese de leer este mensaje completo para obtener detalles importantes.
Información de registro y protocolos de seguridad: este proceso ha cambiado para facilitar un poco el registro y la distribución:
Debe registrarse previamente a través de Eventbrite para obtener su "boleto" para un horario específico cada semana. Seleccione un horario de la mañana o tarde (cerrado para el almuerzo de 12 a 1) todos los miércoles de abril y/o mayo. Para ahorrar tiempo, puede registrarse con varias semanas de anticipación; sin embargo, regístrese para obtener solo un boleto por semana, ya que los boletos duplicados le quitarán un lugar a otro estudiante. También puede traer bolsas térmicas para artículos fríos o congelados y/o bolsas reutilizables
Cómo registrarse:
1.Cree un perfil con Redwood Empire Food Bank: si ya tiene uno, entonces está listo.
A. Si necesita ayuda para configurar su perfil comuníquese con el Banco de Alimentos al (707-523-7903)
B. También contamos con un personal del Redwood Food Bank que ayuda a los estudiantes a configurar su perfil cuando recogen la comida en el SRJC.
2. Seleccione una hora de llegada; necesitará su número de identificación de estudiante. El sitio estará activo hasta las 9 AM los miércoles por la mañana.
Para mantener las medidas de seguridad, planee llegar a tiempo para el horario seleccionado, pero no más de 10 minutos antes.
Recuerde que la distribución de la despensa estará cerrada de 12 a 1pm para que el personal tenga la oportunidad de almorzar y recargar energías

.
Dónde: SRJC, Santa Rosa Campus. La despensa del Quiosco de Bailey está ubicada en el edificio 100 entre el Auditorio Luther Burbank y el Gimnasio Tauzer en la esquina noroeste del campo de fútbol y hay un mapa disponible aquí. Desafortunadamente, no podrá conducir hasta el quiosco; sin embargo, hay estacionamiento disponible en la estructura de estacionamiento al lado del campo de fútbol.
Quién: Estudiantes actualmente matriculados en SRJC.
Cuando llegues:
• Tenga listo su "boleto" o correo electrónico de confirmación para registrarse a la hora designada
• Regístrese en la mesa de CalFresh con su número de identificación de estudiante
• Regístrese en Redwood Empire Food Bank (traiga su pulsera si ya se ha registrado previamente con el banco de comida)
•¡Obtenga su comida!
¡Adelanto!:
¿Preguntas? Envíe un correo electrónico a mquiroz2@santarosa.edu  para obtener información adicional.
Gracias a nuestros contribuyentes:
Los alimentos básicos y los productos frescos son proporcionados por SRJC, El Banco de Comida Empire estación 3990 y la granja Shone del SRJC
---
Sexual Health & Reproductive Health Clinic: 2nd & 4th Tuesdays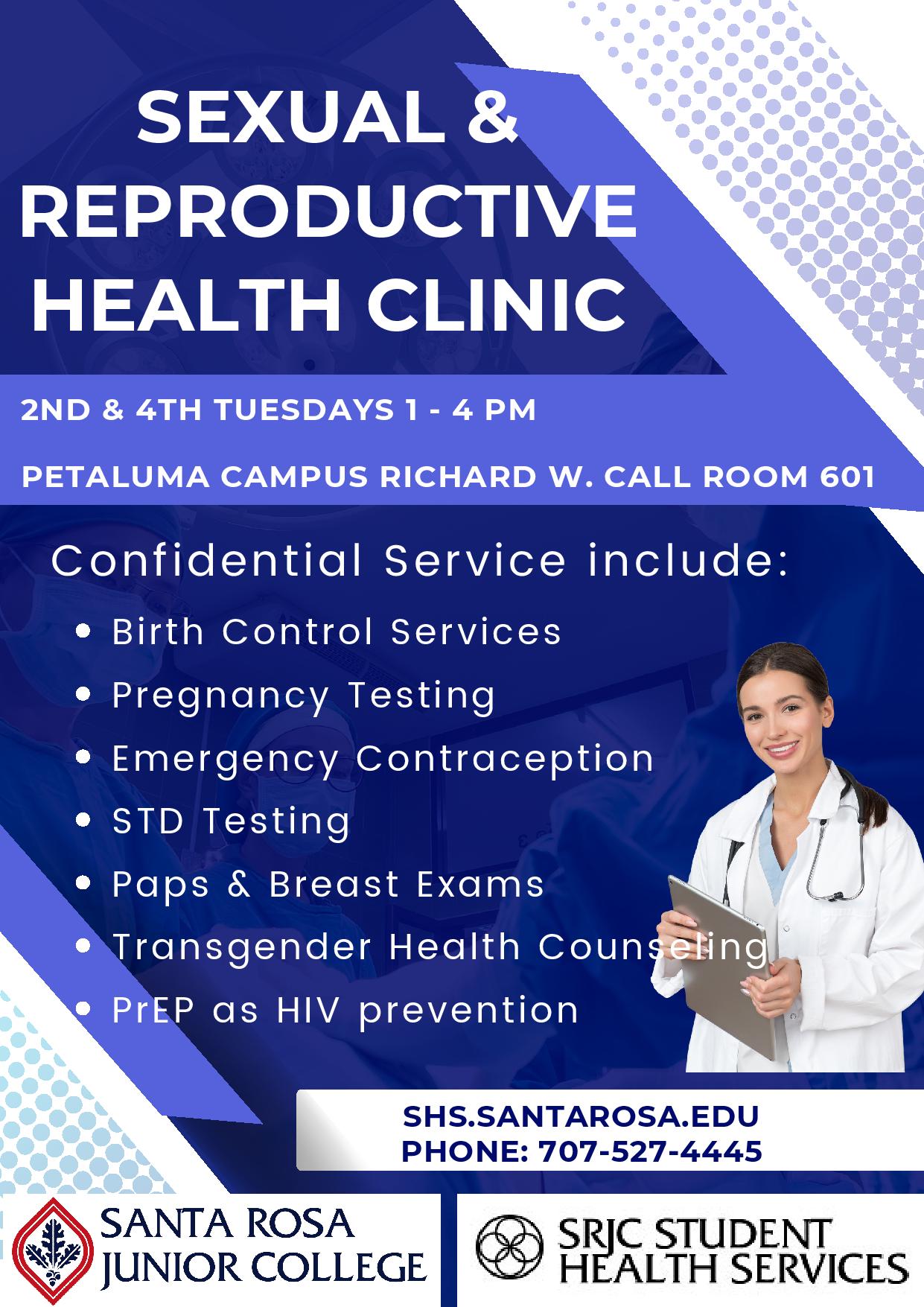 ---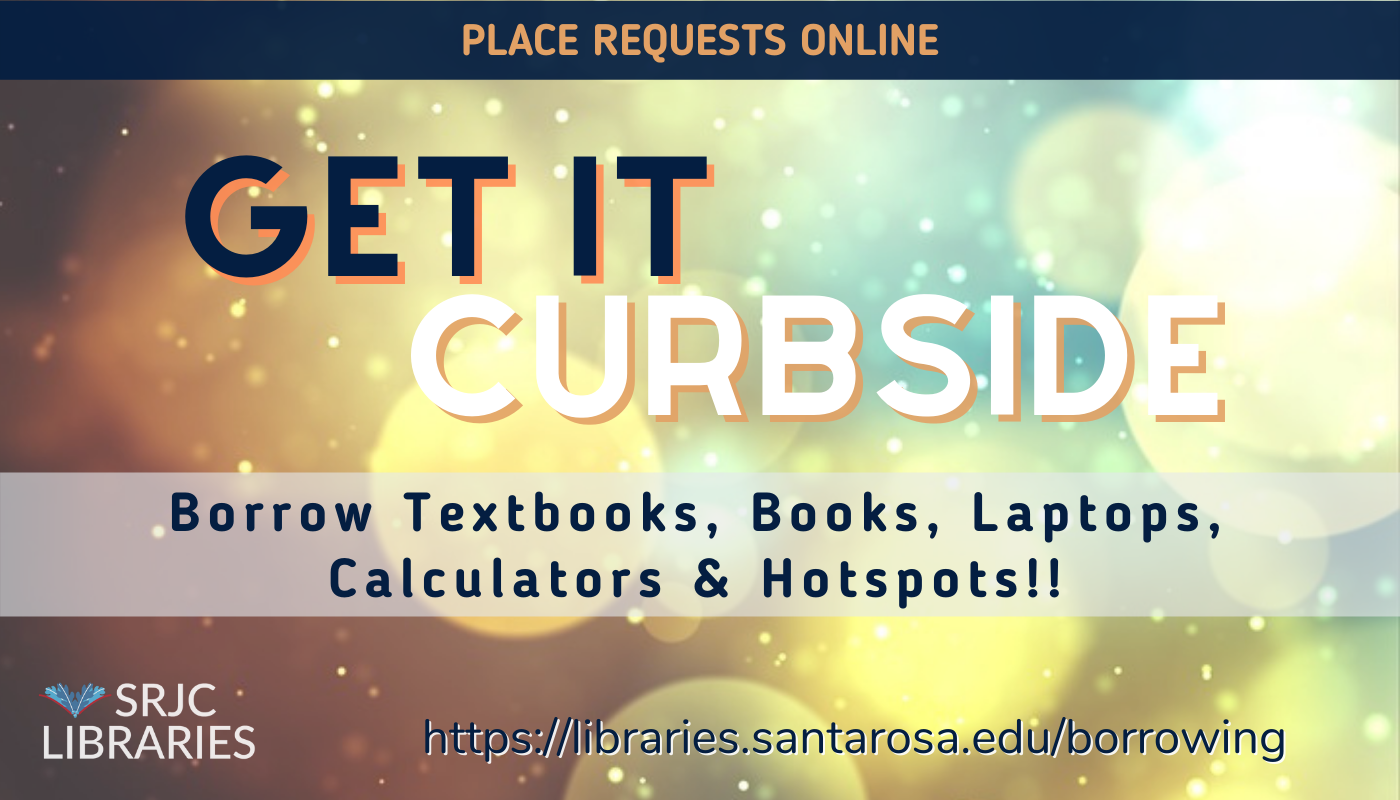 ---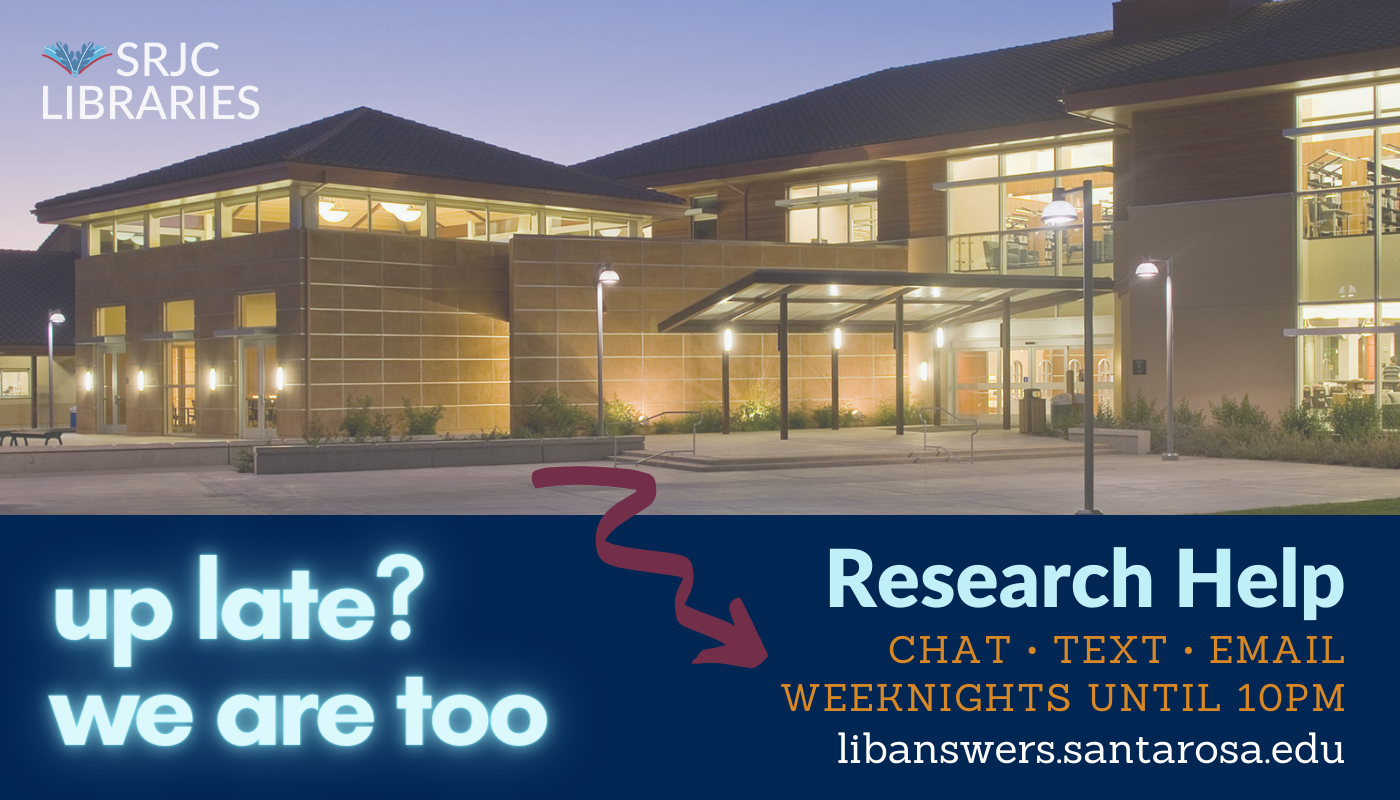 ---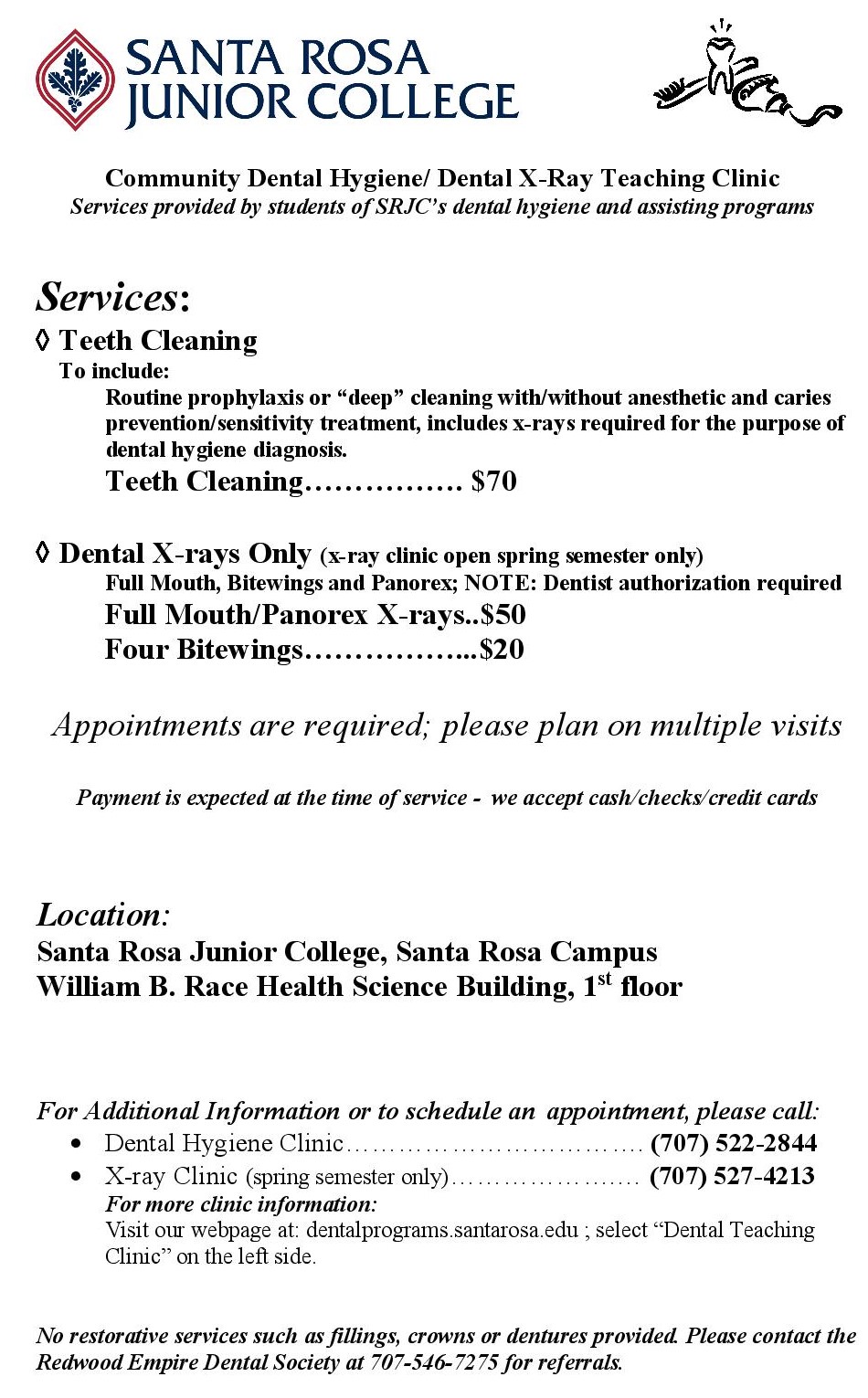 Dental cleanings are a flat $70.00 Fee offered all 3 semesters each year which includes radiographs and deep cleanings, with light cleanings offered for free by our first year students in the spring (multiple appointments required)

Our phone number for scheduling appointments and inquiries is 707-522-2844, or visit dentalprograms.santarosa.edu 
---

---
Welcome to the coolest corner for club information in the Bearfacts!
Here you will find important information and links for clubs, and much more.
---
Students For Recovery Meetings: Thursdays 12 Pm to 1 PM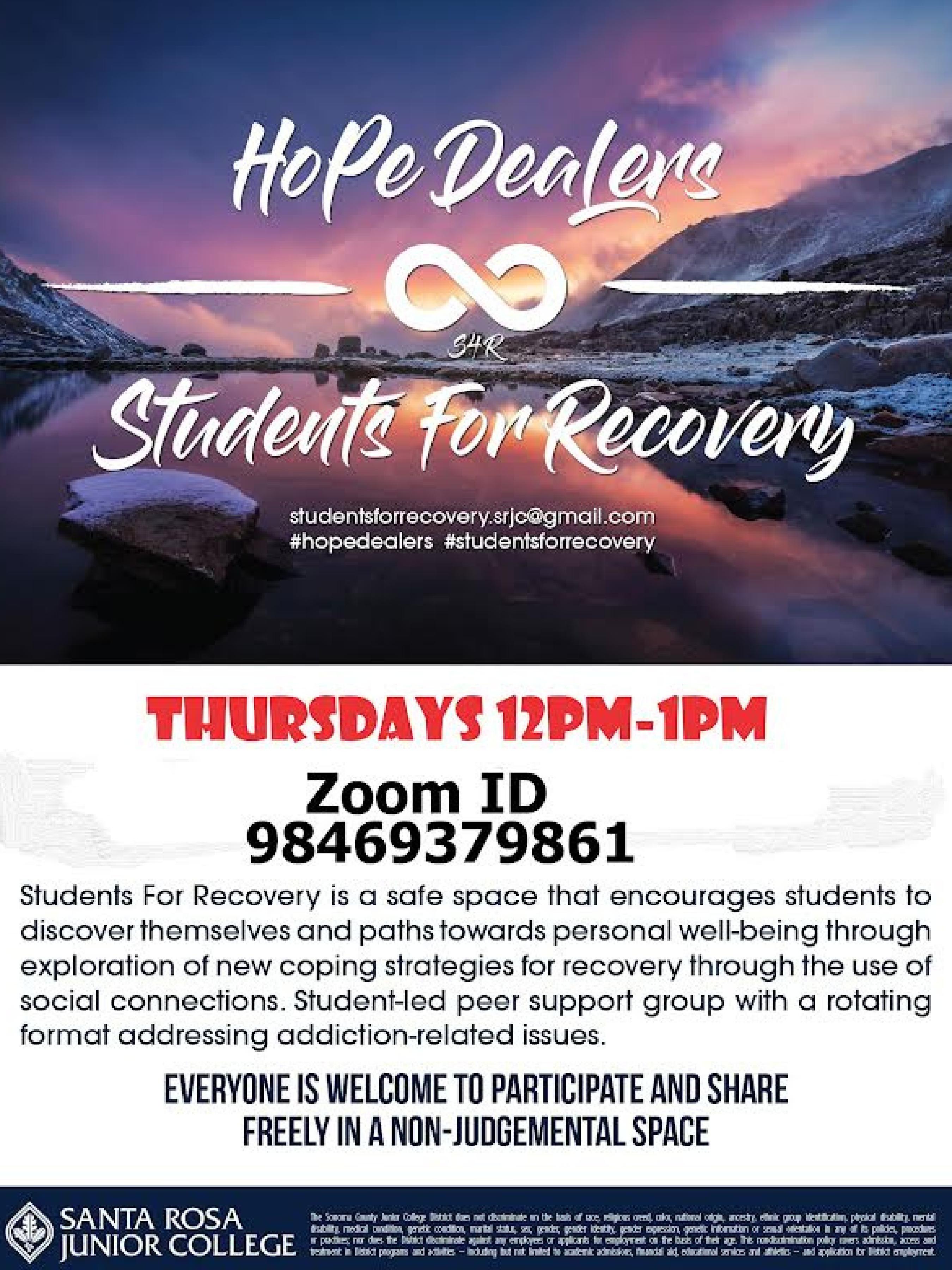 ---
Club List and Meeting Locations
For more information about SRJC Clubs contact:
Irmina Benson, Vice President of Clubs - Santa Rosa
Elizabeth Cole, Vice President of Clubs - Petaluma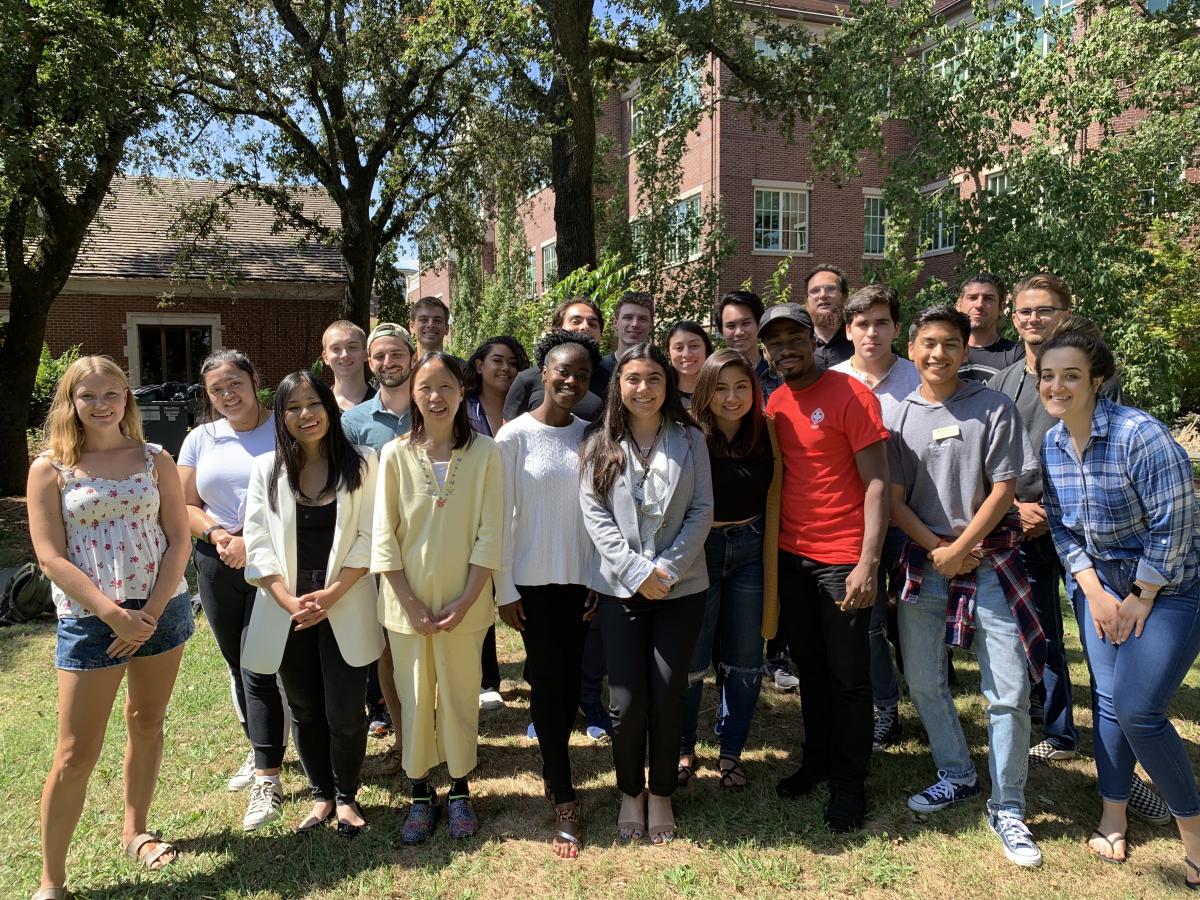 (Pictured Above) Santa Rosa ICC Executive Officers 2019-20
Elisa Fragoso, Spring 2020 Secretary, Holly Pilling, Spring 2020 Vice-Chair, Burnice Nyamien, 2020 ICC Chair and VP of Clubs - Santa Rosa, Jorgen Go, Spring 2020 Treasurer
Meetings schedule still pending for Spring 2022. Check our website for more ICC Updates!
---
Click the image below for more info on SRJC Bear Cubs!
---

For the most up to date information and to connect with fellow students, please download the MySRJCApp to your mobile device.
For more information, click here to visit the Welcome and Connect Center website.
---
The Sonoma County Junior College District does not discriminate on the basis of race, religious creed, color, national origin,
ancestry, ethnic group identification, physical disability, mental disability, medical condition, genetic condition, marital status, sex,
gender, gender identity, gender expression, genetic information or sexual orientation in any of its policies, procedures or
practices; nor does the District discriminate against any employees or applicants for employment on the basis of their age.
This nondiscrimination policy covers admission, access and treatment in District programs and activities - including
but not limited to academic admissions, financial aid, educational services and athletics - and application for District employment.
Get Social:
BearFacts Student eNewsletter is a publication from the office of Student Life, Equity & Engagement Programs.
The purpose of the BearFacts bulletin is to provide students with information about SRJC activities, engagement opportunities, and important deadlines
and to promote student retention and success.
All submissions can be emailed to the Student Graphic Artist/BearFacts Editor, bearfacts@santarosa.edu.
Submissions may be edited for length & clarity.