SRJC BearFacts eNewsletter - 08.18.19 Publication 
---
Important Dates & SRJC Updates
First Day of Fall 2019 Classes: August 19th, 2019
Check your student portal for exact classroom location; classes include 
Mathematics (including the new math lab),
Engineering & Applied Technology (including the new VR lab), Administration of Justice and Health Sciences.
Fall 2019 Parking Updates Listed Below
Tenth Student Government Assembly Meeting: August 19th, 3 PM
SRJC homepage was newly redesigned and it went live on Monday, June 24, 2019. The modern design is intended to provide students with easily navigable resources and to support the day-to-day needs of both students and employees. The college is committed to continually reassessing the efficacy of this design to ensure it follows best practices and last trends in web design, and it fits the current needs of SRJC.Thank you to the many students who provided input on the redesign and to all students for your support as we engaged in this multiyear project. We hope the redesign helps support your ongoing success as you continue your studies at SRJC!  
---
CubCard Premium Discounts at the Bookstore THIS WEEK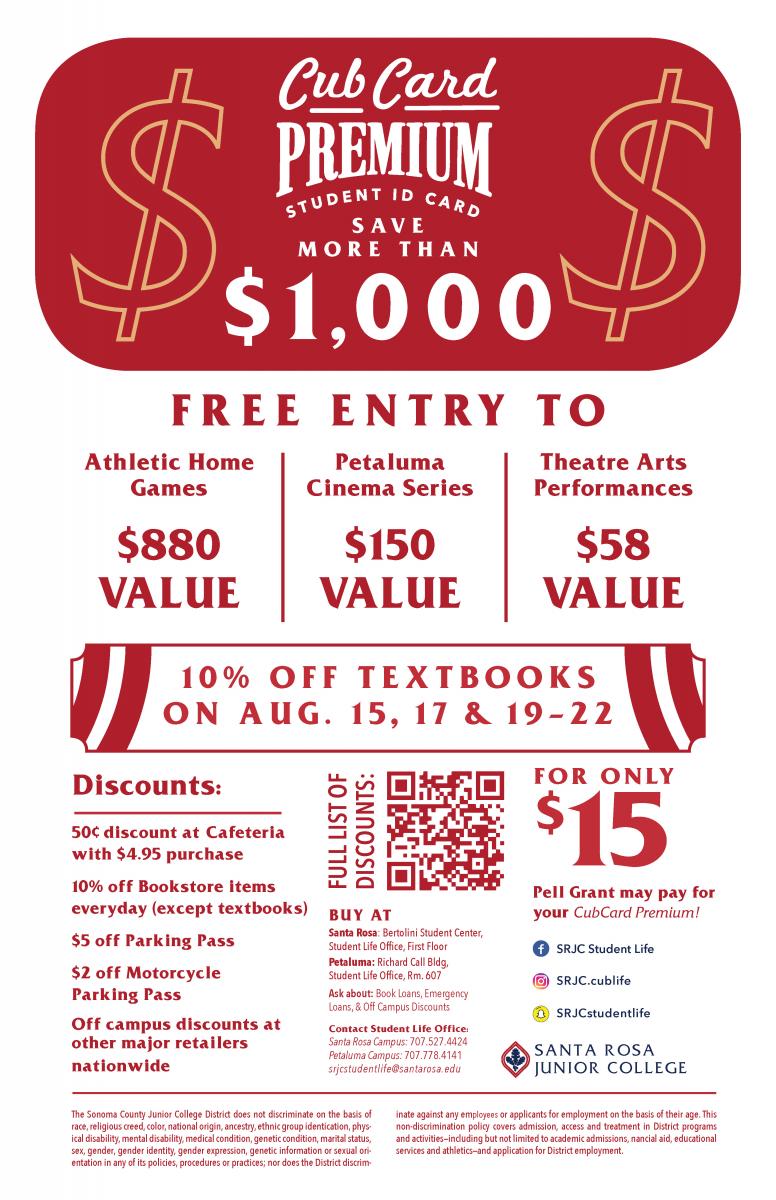 ---
SMART Train Passes Available for Fall 2019
In our continuing efforts to provide sustainable transportation alternatives for our students, SRJC has partnered with SMART on a special Eco-Pass program. Student transportation fees will help to subsidize the cost, reducing the fare to only $260 for a semester pass,  August 19th – December 20th, 2019. The regular cost for this type of pass would be $517.50, which is already a discounted price. This pass will provide you unlimited ridership, any time the train is running, for the course of the Fall semester.
Passes are on sale now, and will be first-come, first-serve. To purchase a pass, please visit one of the following locations on either campus; At the Accounting Window in Bailey Hall on the Santa Rosa Campus, Monday through Friday, 8:00 AM to 5:00 PM or the First Stop Center, Jacobs Hall, PC109 on the Petaluma Campus. You can call (707) 527-4424 for more information. Here are some more details of the program.
SMART Eco-Pass Program for SRJC Students
This Eco-Pass is for my use only, as a student of Santa Rosa Junior College. The Eco-Pass is non-transferable, cannot be sold, transferred or duplicated, and may not be provided to or used by anyone else other than the participating student to whom it is issued, including family and friends. If someone other than myself is found using this Eco-Pass on SMART, that person may be subject to a fine.

Students must tag their Eco-Passes on the Clipper reader at the SMART station platform each time they embark and disembark the train. 

SMART, in its sole discretion, may replace damaged, lost or stolen Eco-Passes.
---
Invitation: The Impact of Gun Violence on the Education of our Youth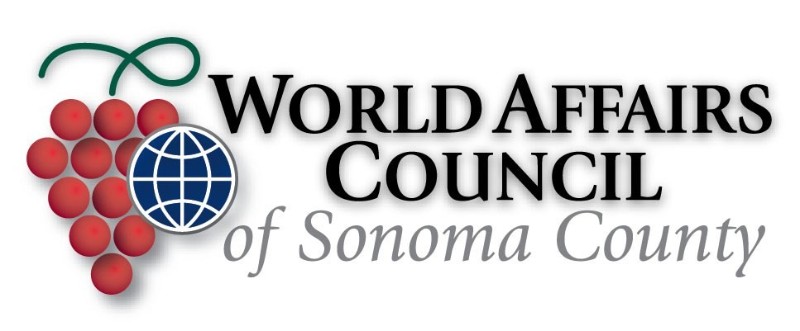 ***Students may register at the member rate of $35.00*** 
---
Strengthen and Tone with Barre Fitness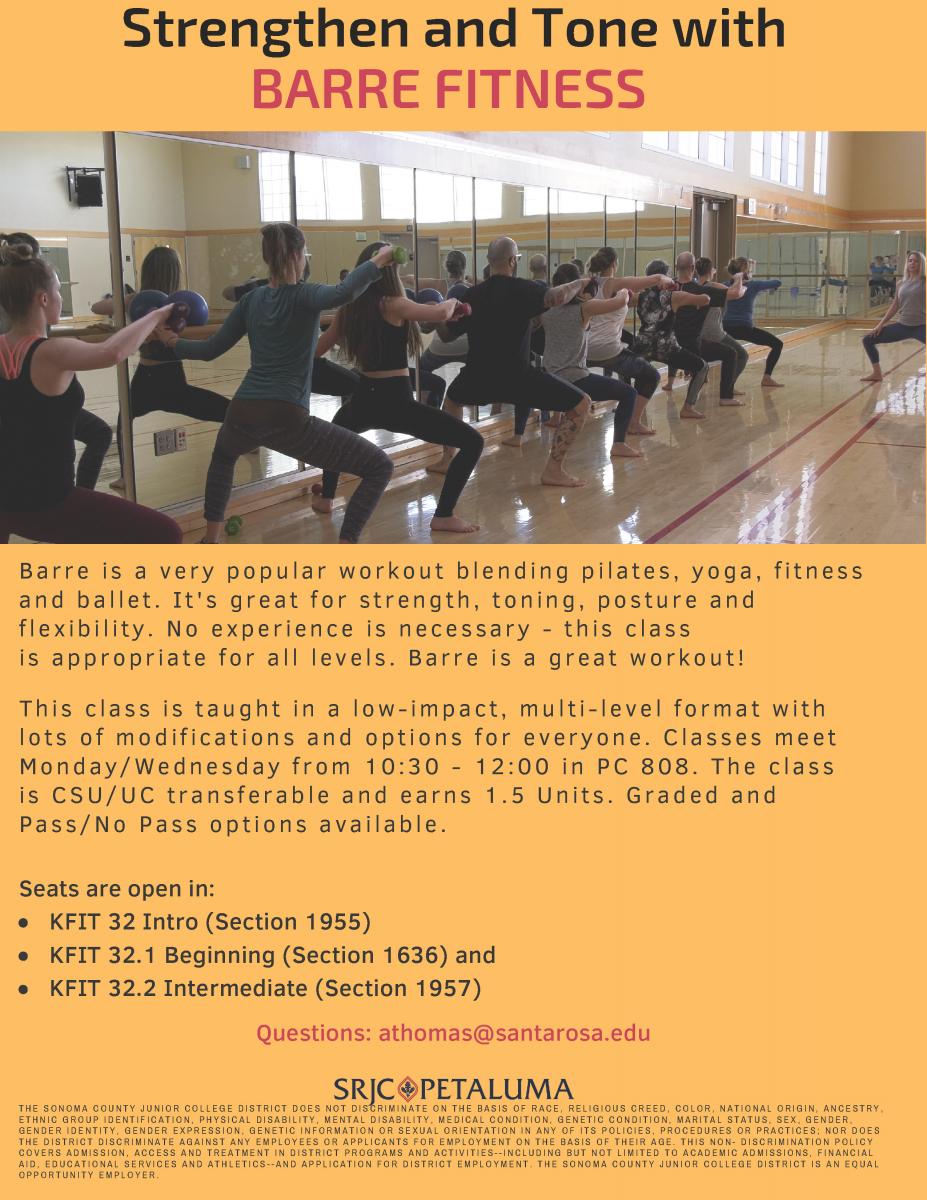 ---
---
Student Employment: Work on Campus!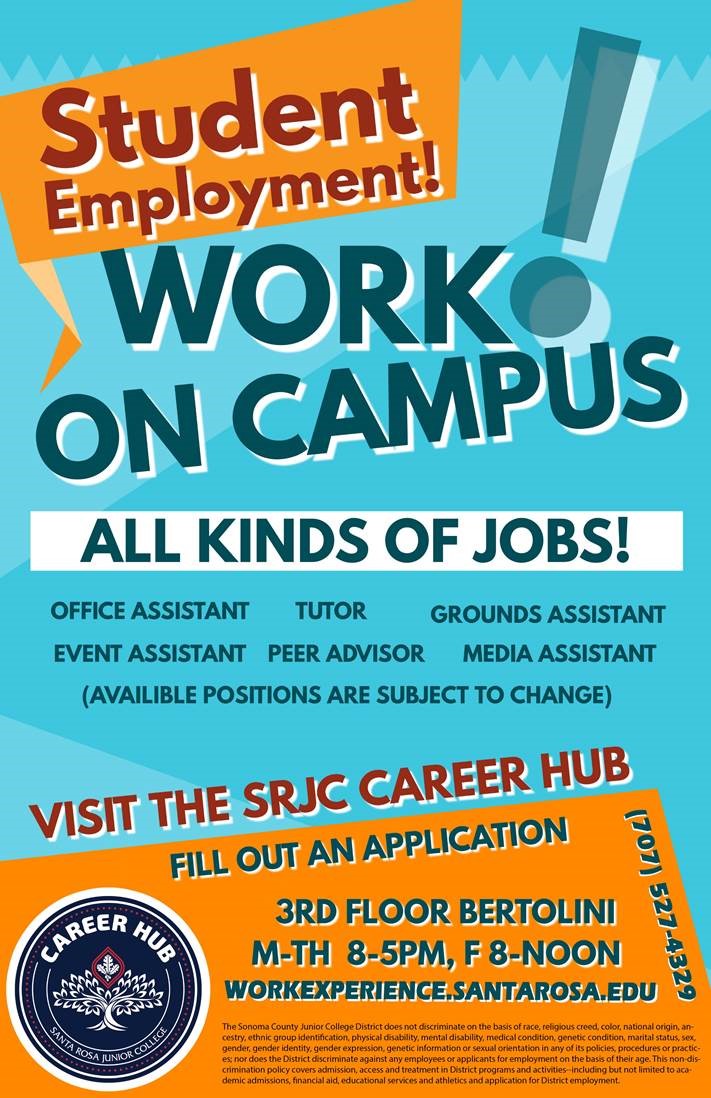 ---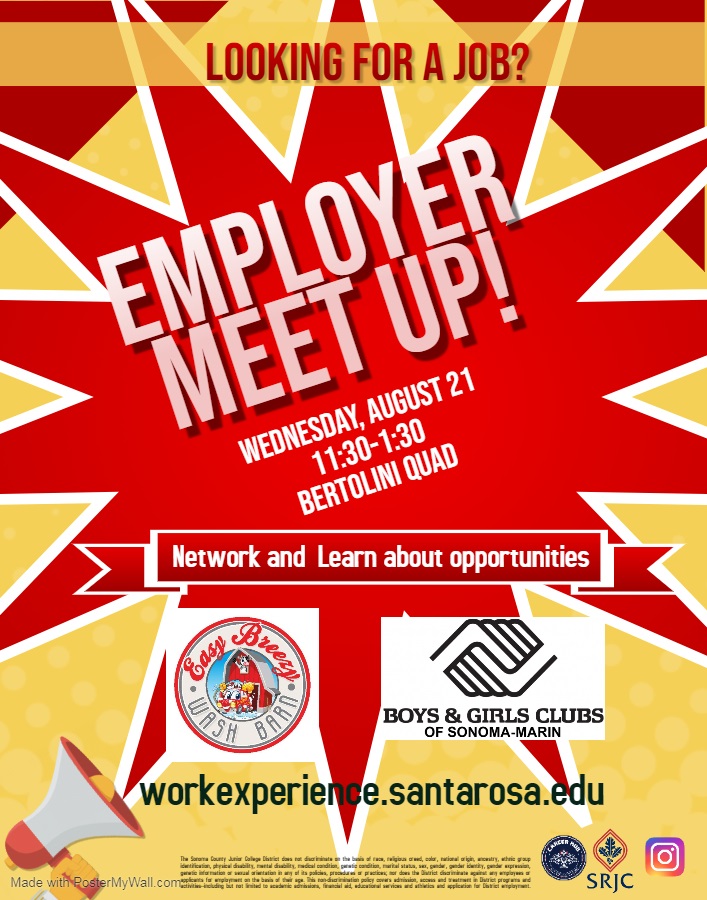 ---
Auditions for SRJC Theatre Arts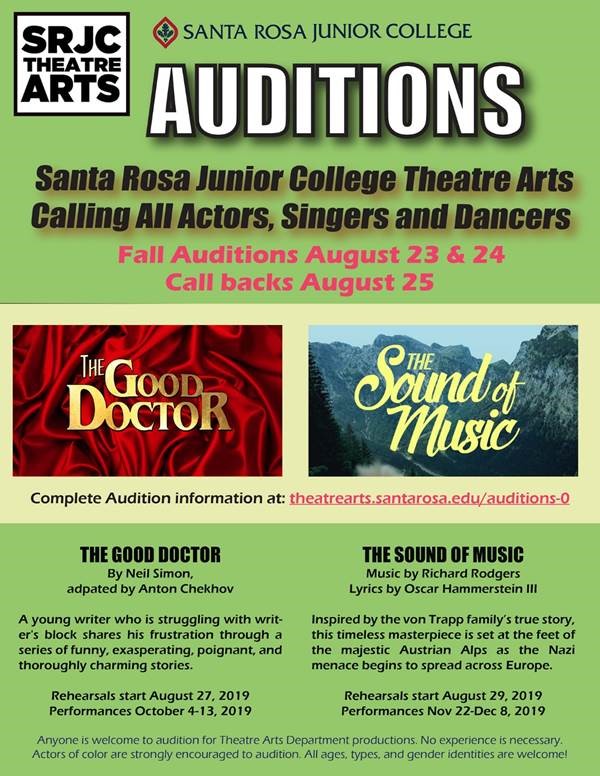 ---
Join The Oak Leaf News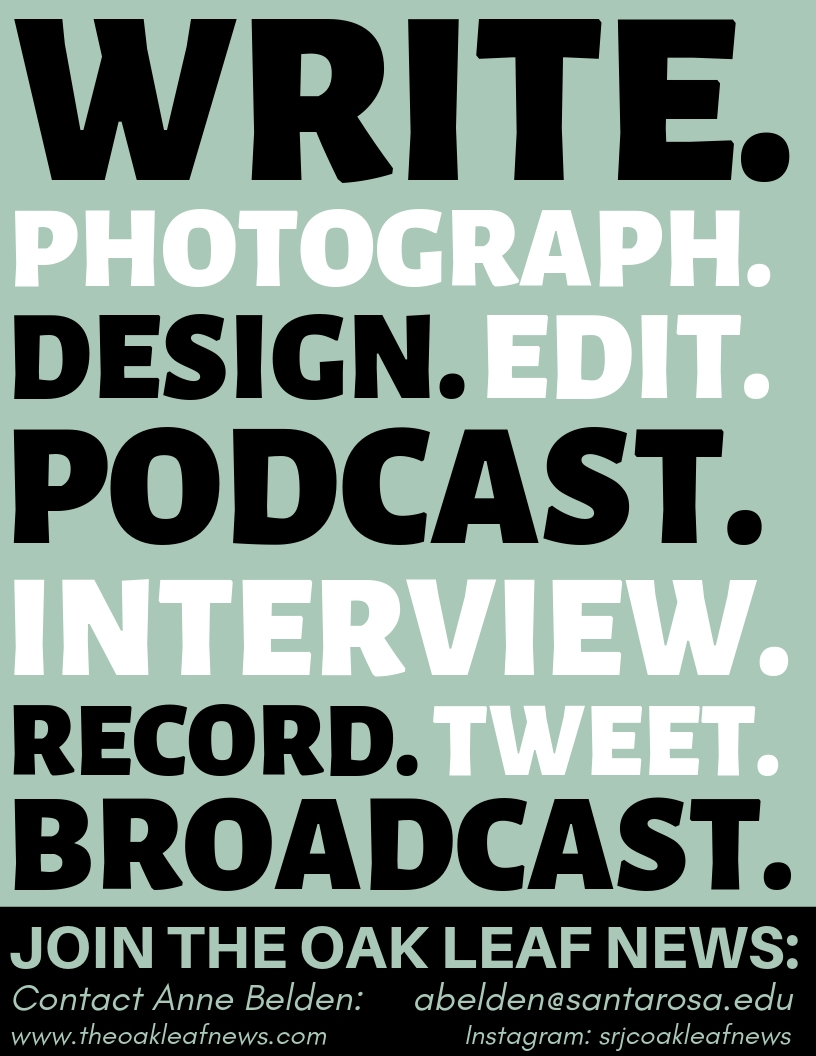 ---
Interested in becoming a coach? Kinesiology major? Check out KINES 55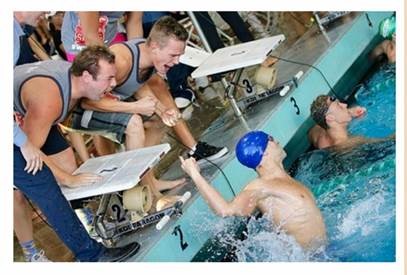 Our head men's and women's swim & dive coach, Jill McCormick is offering this class online this fall which focuses on the fundamentals of coaching as a profession.
Coach McCormick's teams have won more state titles than any other program in SRJC history.
DESCRIPTION
Coaching Sports focuses on the components and characteristics of coaches and sport programs. Students will examine and develop coaching techniques, styles and philosophies pertaining to the planning, management and competition in sports.  This course is also aligned with American Sports Education Program (ASEP) and prepares students to take both the ASEP test and the CIF test, which are required by many youth coaching associations.
CONTENT
Principles of Coaching (philosophy, objectives, coaching style, character)
Principles of Behavior (communication, motivation, management)
Principles of Teaching (technical skills, tactical skills, planning)
Principles of Physical Training (basics, energy fitness, muscular fitness, nutrition)
Principles of Management (team, program, relationships, risk)
Email Coach McCormick at:  jmccormick@santarosa.edu
ENROLL IN KINES 55 NOW!
---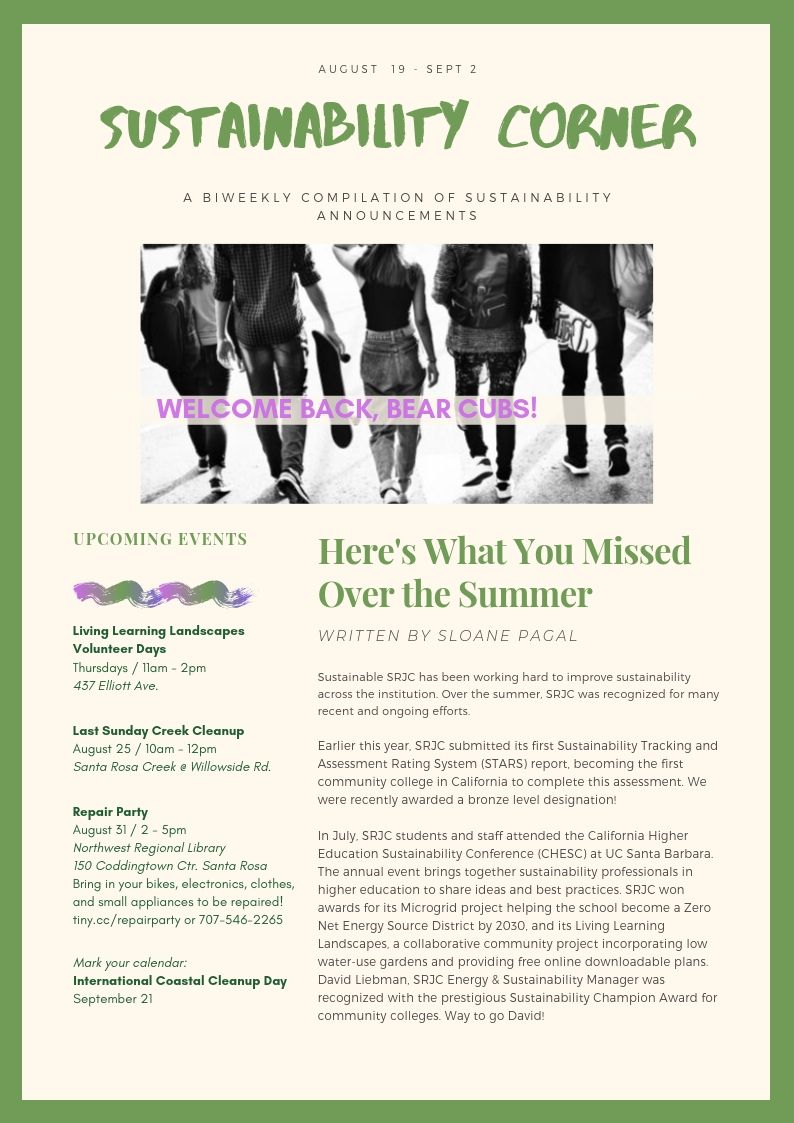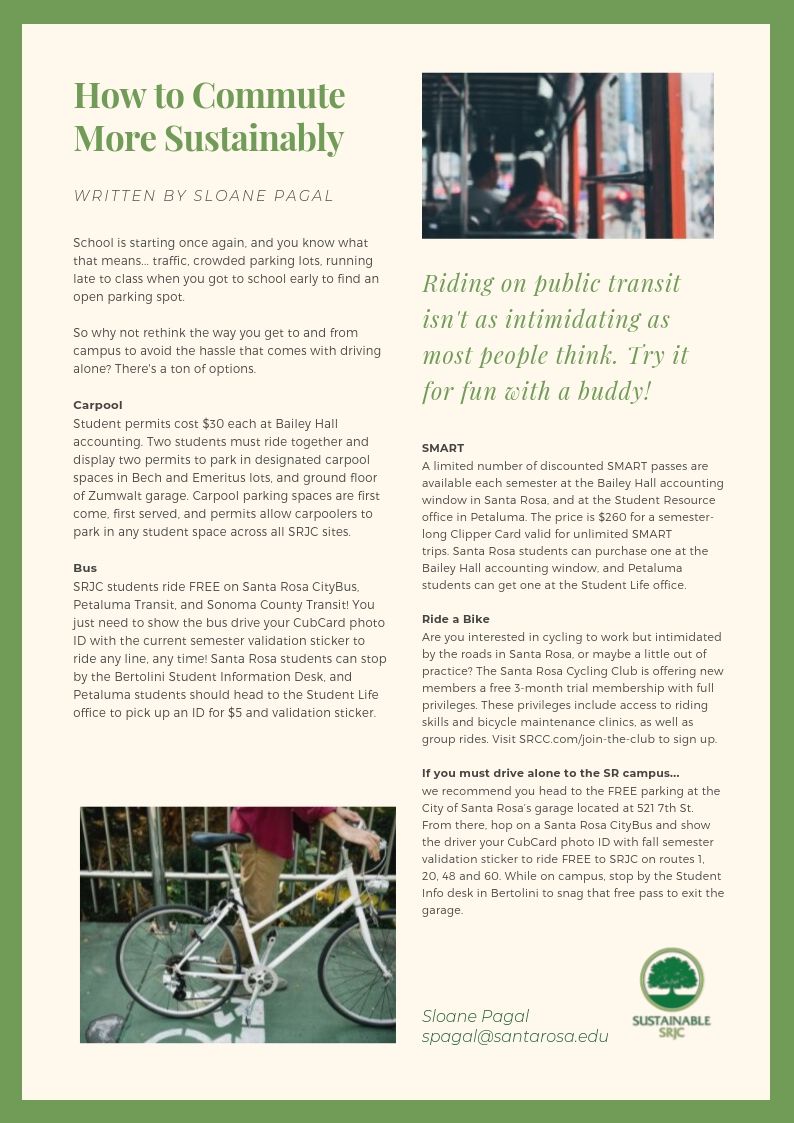 ---
Parking & Construction Updates
Capital Projects wants to update you on parking conditions for the upcoming fall and spring semesters. Please see the map below for parking conditions. The most significant change is that staff parking Lot C will be CLOSED while Bailey Field is under construction for this fiscal year. A new temporary Lot C has been created for Lot C permit holders where the tennis courts are located off of Scholars Way. This temporary lot replaces all the spaces that are closed for Bailey Field.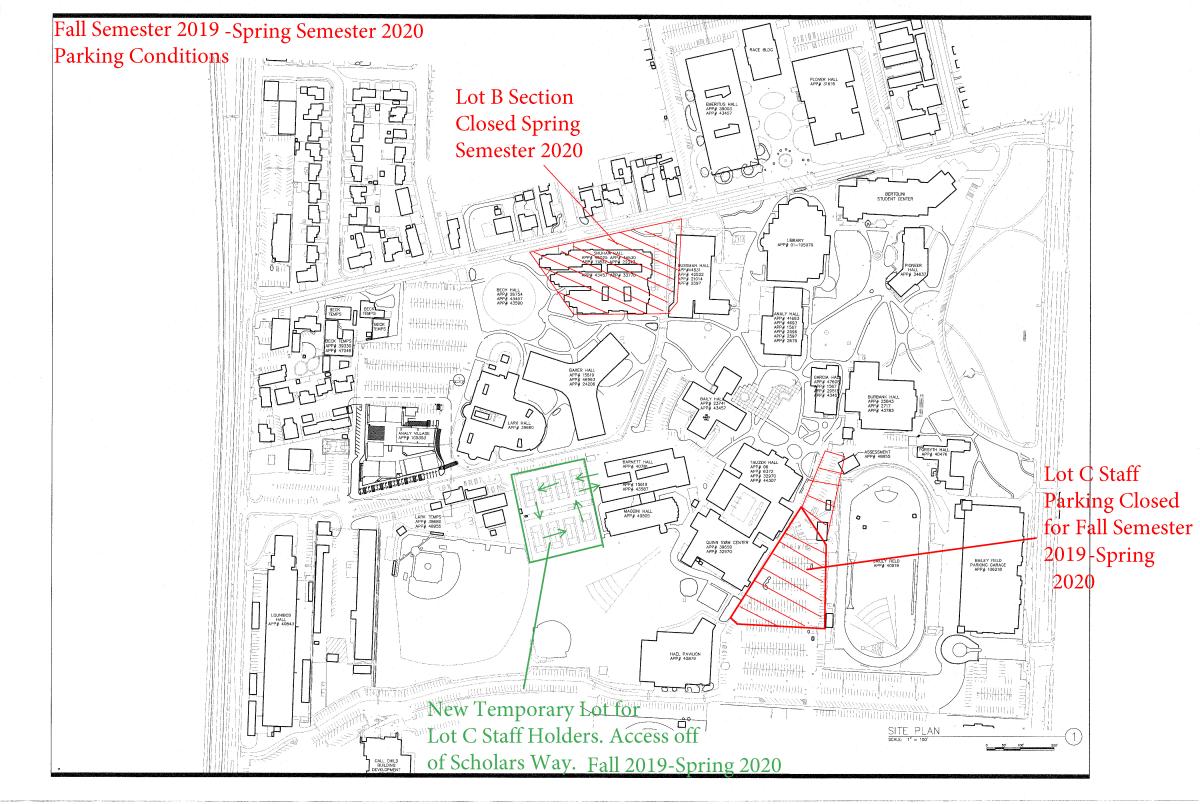 Thank you for your patience as we continue construction of Measure H projects
---
In order to perform site work for new sidewalks associated with the Burbank Auditorium project, the walkway between Burbank and Bailey Field will be closed till August 26, 2019.  A temporary pathway has been constructed through Bailey Field to maintain access through this thoroughfare.  See map attached.  This temporary walkway will be available tomorrow morning, Friday, August 16, 2019.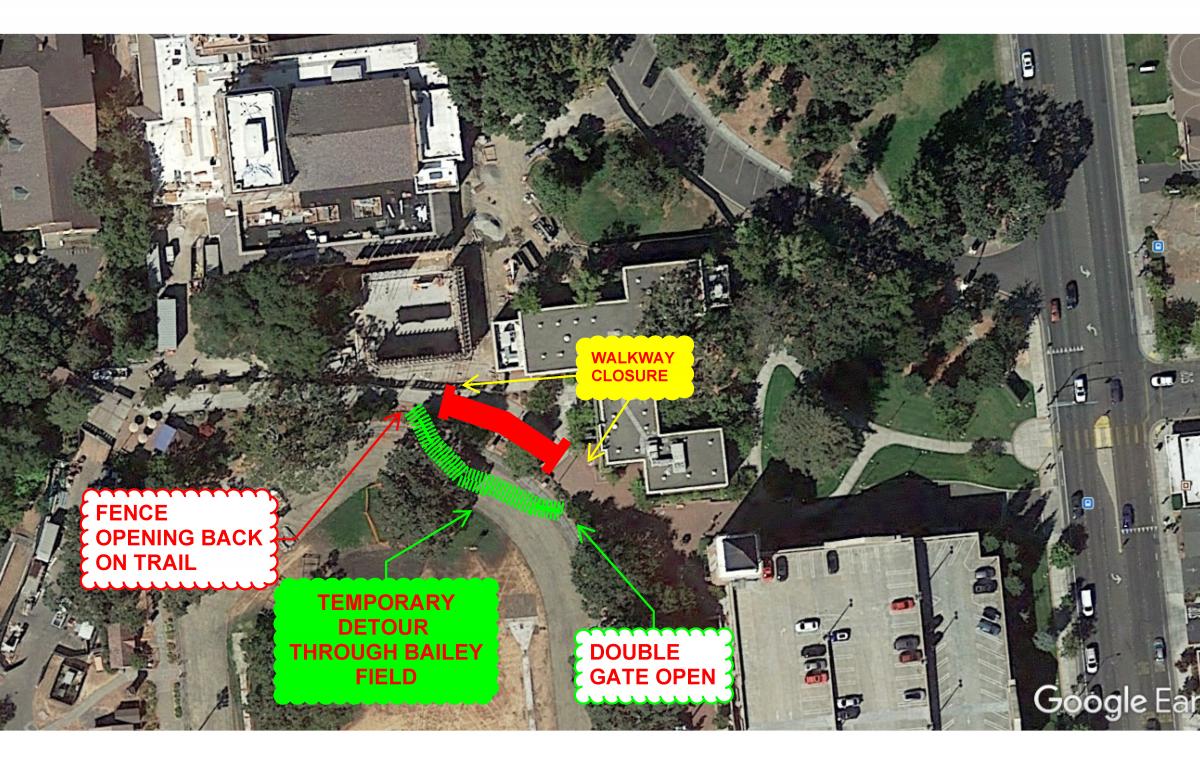 ---

Welcome to the coolest corner for club information in the Bearfacts! 
Here you will find important information and links for clubs, and much more. 
2019 - 20 Elected Student Government Club officers
Burnice Nyamien, VP of Clubs - Santa Rosa
Claudia Muralles, VP of Clubs - Petaluma
First Meeting of Fall 2019: August 21st at 1:30 PM in the Bertolini Student Center, Room 4643
Santa Rosa ICC Executive Officers 2018-19
Vanessa Johson, Spring 2019 Secretary, Mark Murakami, Spring 2019 Vice-Chair, Dori Elder, ICC President, Hannah Harris, Fall 2018 Vice-Chair, Jorgen Go, Treasurer, Anna Kidd, Fall 2018 Secretary
The FALL 2018 ICC

The Student Government Assembly has appointed an ICC Chair for the 2019-2020 academic year, Burnice Nyamien!
The first meeting of the Inter-Club Council for the fall semester will be Wednesday, August 21st at 1:30 PM in the Bertolini Studetn Center.
---
Click the image below for more info on SRJC Bear Cubs!
---
The Sonoma County Junior College District does not discriminate on the basis of race, religious creed, color, national origin,
ancestry, ethnic group identification, physical disability, mental disability, medical condition, genetic condition, marital status, sex,
gender, gender identity, gender expression, genetic information or sexual orientation in any of its policies, procedures or
practices; nor does the District discriminate against any employees or applicants for employment on the basis of their age. 
This nondiscrimination policy covers admission, access and treatment in District programs and activities - including
but not limited to academic admissions, financial aid, educational services and athletics - and application for District employment.
 Get Social:
BearFacts Student eNewsletter is a publication from the office of Student Life, Equity & Engagement Programs.
The purpose of the BearFacts bulletin is to provide students with information about SRJC activities, engagement opportunities, and important deadlines
and to promote student retention and success.
All submissions can be emailed to the Student Graphic Artist/BearFacts Editor, bearfacts@santarosa.edu.
Submissions may be edited for length & clarity.