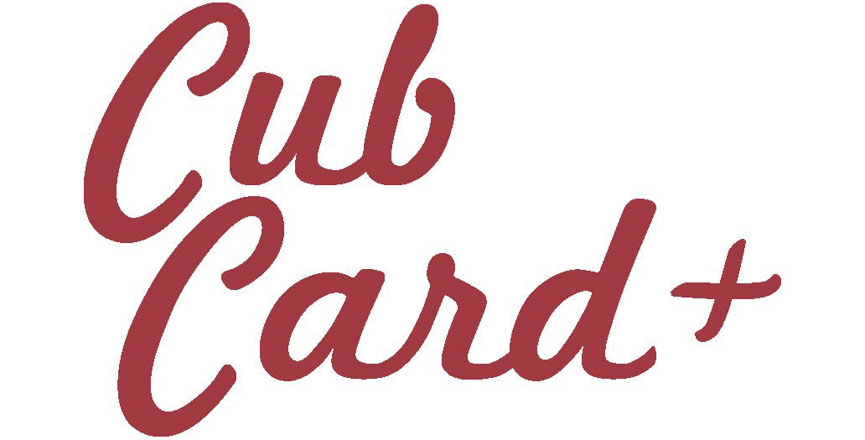 PSSST . . . Get Some Deals!!!
All students must show their Student ID with the appropriate CubCard+ sticker on the back to receive the AWESOME discounts below. Your membership fees go toward funding a variety of SGA (Student Government Assembly) activities and college programs and services. Visit the office of Student Affairs & Engagement Programs on Santa Rosa or Petaluma campus to receive your CubCard+ sticker.
Summer term is only $9 (over $65 value)!!!
Fall/spring semesters are only $15 (over $100 value)!!!
FREE Admission
On-Campus
10% off @ SRJC Bookstores - except Textbooks all semester long
10% off @ SRJC Bookstores - including textbooks for ONE DAY ONLY (Thursday, August 17th from 8 - 7 pm at SRJC Santa Rosa and Saturday, August 19th from 9 - 3 pm at SRJC Petaluma)
$5 off parking permit ($2 for motorcycle) 
$0.50 off @ Fresh & Natural (spend $4.95 or more)
20% discount at the CyBear Resource Center
Off-Campus
24 Hour Fitness - Special discounts for students, alumni & employees. Check out the details here.
AT&T: 10-20% discount on products and service [Requires @bearcubs.santarosa.edu email for validation] 
A.C.E. Automotive: 10% off purchase
Acur-It Auto Repair: Free Safety Inspection for new customers; $10.00 off ($50.00 - $100.00 Service), $20.00 off ($101.00 - $200.00 Service), $30.00 off ($201.00 - $400.00 Service), and $40.00 off ($401.00+ Service)
Computers & More, Inc: 20% off labor and technical support
Freddy Blue's Local Heroes Auto Repair: Free engine light diagnosis & 30 minute free maintenance review
Gema's Beauty Salon: 10% off ALL SERVICES on Mondays and Tuesdays
Gifts.com: provides tens of thousands of expertly curated gifts and unique ideas. Receive a 15% discount using the code: SCARLET15.
Healdsburg Golf Course: 15% off 1st private golf lesson 
Jack's Urban Eats: 10% off
McLea's Tires: $29.95 oil change
Ole Times Barber Shop: $5 off any haircut
Personal Creations: offers a wide variety of customizable gifts for every recipient and occasion. Receive a 15% discount using the code: SCARLET15. 
Shari's Berries: Send chocolate covered strawberries, gourmet chocolates, delicious cake pops & other treats from Shari's Berries. Receive a 15% discount using the code: SCARLET15. 
Schulz Museum: $1 off adult admission
ProFlowers: offers a wide assortment of floral arrangements, plants, and gifts for any occasion. Receive a 15% discount using the code: SCARLET15. 
UPS: up to 30% off
Valentino's Barber Lounge: 20% off all hair products
Discounts for Hotel & Car Rental
Discounted Auto & Home Insurance Rates through California Casualty 
Reduced long-term care, medical, or pet insurance coverage through Mercer Health
Gold Card
The Santa Rosa Junior College Gold Card is FREE and is available to all residents of Sonoma County who are 60 years old or older. This plasitc, photo ID card entitles the user to the same benefits as a CubCard+ member (see above).
Questions about this web page or to add a discount from your business, please email Hilleary Zarate at hzarate@santarosa.edu.